Select Country:
Greece
Last update: 10.09.2019 - older versions
Greece has regular DAB+ services on air in and around the capital city of Athens, where a multiplex is operated by the state-owned broadcaster ERT.
There are seven DAB+ stations on air, including the country's six ERT radio program channels.
Last update: 10.09.2019 - older versions
A multiplex covering the capital city of Athens and its vicinity is currently in operation, with seven stations on air.
The official Greek DAB+ frequency and transmission sites map was published on January 18 2018. Greece is divided in 34 radio allotments, with minimum of four DΑΒ+ multiplexes in every allotment.
In the future, two multiplexes will host national radio stations (public and commercial), while the rest will host regional radio stations in every alotment.
The Greek DAB+ network will broadcast through 167 transmission sites.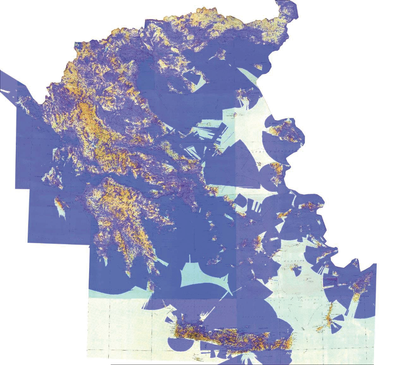 Map of planned DAB+ transmission sites in Greece
Last update: 04.09.2019 - older versions
In this country there is
on air.
DAB+ regular transmission from Greek Radio Television (ERT) in Athens - Greece
Site: Hymettus mountain
Multiplex on Block 12C with 7 radio programs;
ERA 1 Proto - News/talk (128 kbit/s)*
ERA 2 Deftero - Greek music (96 kbit/s)*
ERA 3 Trito - Classic music (128 kbit/s)*
ERA Sport - Sports (96 kbit/s)*
Kosmos - World music (128 kbit/s)*
Voice of Greece - International Radio of ERT (96 kbit/s)*
ERA 7 - Greek Parliament (64 kbit/s)*
*variable bitrate
| | Simulcast on AM / FM | Exclusive on digital | Total of services |
| --- | --- | --- | --- |
| DAB+ programmes | 7 | 0 | 7 |
Last update: 10.09.2019
Greece is expected to adopt national regulation in line with the EECC directive. Adopted by the EU in December 2018, the EECC directive requires all new car radios in the EU to be capable of receiving digital terrestrial radio by the end of 2020.
Last update: 29.09.2014
DAB receivers are available through retailers in Greece.
Last update: 25.07.2018 - older versions
The first DAB+ trial of private radio stations in Greece, started on 28th Apr 2018 in Thessaloniki.
Under a temporary license by the Greek Telecom Authority (EETT), a collaboration of the companies "Greekstream Networks" & "Sigmacom Broadcast" started trial transmissions on channel 12B, covering most of the central Macedonia region.
The multiplex initially started with 6 programmes (simulcast FM and DAB+), reaching 18 programmes in early May, and the number of stations expressing their interest to participate in the trial, is growing.
The service and all the necessary equipment is being provided by the trial operator at no cost to the participating stations, in order to give them the opportunity to experience DAB+ and promote it.
Prior to the DAB+ trial currently on air, DAB tests occasionally appeared in the Athens and Thessaloniki areas.
Last update: 19.01.2018
In January 2018 Greece passed into law:
b) The DAB+ radio stations licencing law (articles 220 - 238) (
Download file
)
c) Tender from the Greek Telecom Authority (EETT) for DAB+ network providers (applications date 17-4-2018, licence date: 24-5-2018) (
Link
)
---
---
---
---
---
---
---
---
---
---