Small Scale DAB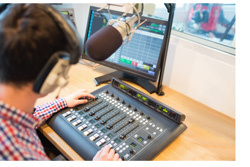 Small scale broadcasters wanting to broadcast on DAB have previously been restricted due to costs and lack of capacity on local multiplexes.
Governments and regulators are now taking steps to make it easier for small scale broadcasters to migrate to DAB with new trials and initiatives.
Open source software can be used to simplify the transmission infrastructure by using a single transmission site with all the encoding/multiplexing/modulation happening on a PC and using internet streams as the audio source. Almost all small scale DAB transmissions operate using open source software currently maintained by opendigitalradio.org.
ODR-mmb Tools for Single Frequency Network enters production (November 2015)
Small scale DAB in Europe
Switzerland: In 2013, Swiss broadcasting regulator OFCOM/BAKOM awarded a licence to the company Digris to operate "digital islands". Regular transmission operates in Geneva with 14 radio stations since June 2014 and since September 2014 in Zürich. Deployment is in progress on other cities. The transmission infrastructure uses mmbTools free open source software running on cost-effective hardware.
DAB+ for local community radio stations (December 2014)
Digital Islands for small radio stations (June 2013)
UK: In June 2015, UK broadcasting regulators Ofcom awarded ten trial licences for radio multiplexes allowing community and local community stations to broadcast on DAB at a smaller cost. The trials are designed to test how it small scale broadcasting will operate and understand how small stations can work together and bring new stations to local areas.
UK stations available during small scale DAB trial (January 2016)
60 small-scale radio stations take to the air in Ofcom trials (June 2015)
UK Local DAB network expansion 2015-16 (January 2015)
France: French multiplex operator SDN (http://diffusionnumerique.org/) operates a local multiplex with community radio stations in Marseilles. In Nantes, the organisation GRAM operates a transmission with local stations. Radio Coop started transmission of a group of community stations over Paris on Channel 9A.
Denmark: Kanaplus in Denmark is operating a local DAB multiplex near Copenhagen with an ensemble of 9 DAB+ programmes.
Germany: German regulators, die medienanstalten 2015 study favours DAB+ broadcasting of local/regional broadcasting.
Digital terrestrial distribution of local/regional broadcasting. Valuation and recommendation of digital sound broadcasting systems (October 2015).