Home

/

About

/

National Broadcasting and Telecommunications Commission of Thailand
National Broadcasting and Telecommunications Commission of Thailand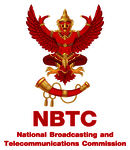 The National Broadcasting and Telecommunications Commission or NBTC is an independent state regulatory body which was established under the Act on Organization to Assign Radio Frequency and to Regulate the Broadcasting and Telecommunication Services B.E. 2553. The NBTC has been graciously appointed by His Majesty the King on October 7th, 2011 to allocate the nation's radio frequency and regulate broadcasting and telecommunications sectors for the benefit of the country and the public.
NBTC's Policy in frequency allocation for the maximum benefit for the Thai people
1) Frequency Allocation: fairly allocating frequency and promoting its utilization efficiently for the maximum benefit of the public and the nation.
2) Licenses granting: focusing on the fair competition and preventing monopoly that could lead to unfair competition.
3) Regulation: encouraging market mechanism and promoting competition under fair regulations for the maximum benefit of the public for accurately, fast and fair quality of service.
4) Universal Service Obligation: promoting universal broadcasting, television and telecommunication services nationwide.
5) Consumer Protection: setting measures for the public to have access to various high quality ranges of broadcasting and telecommunications services under reasonable prices.
If you need more information please visit our website.