Home

/

About

/

Hirschmann Car Communication GmbH
Hirschmann Car Communication GmbH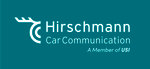 Hirschmann Car Communication, leading the way in mobile transmission and reception solutions. Our passion lies in creating top-notch antennas, tuners, infotainment and telematics systems, ensuring seamless communication, especially within vehicles. Join us on this remarkable journey of staying connected, everytime and everywhere.
With almost a century of experience since our founding in 1924, we've mastered various markets, including Automotive, Commercial Vehicle, Transportation, M2M & Telematics.
Our core competency lies in first class transmission and reception systems, fueling innovation with numerous patents. Since October 2023, we have been part of USI, a global technology leader, and are once again operating independently on the market.
Together, let's shape a connected future.