GatesAir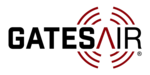 GatesAir, a subsidiary of Thomson Broadcast, connects a legacy of innovation with a vision for the future. GatesAir has been an innovator in over-the-air broadcasting for over 100 years, and today offers the industry's broadest portfolio to help broadcasters deliver and monetize content.
The company's roots date to 1922, when Henry C. Gates founded the Gates Radio and Supply Company. Henry's son, Parker Gates, quickly established the company's reputation as a visionary, responsible for industry firsts in audio and electronics. These innovations laid the foundation for groundbreaking over-the-air radio and television transmitter designs that continue to this day.

Today, GatesAir architects market-leading solutions for over-the-air broadcasting and public safety communications, leveraging the best use of wireless spectrum to maximize performance for multichannel, mission-critical services. In broadcasting, GatesAir powers over-the-air analog and digital radio/TV stations and networks worldwide with the industry's most operationally efficient transmitters. The company continues to innovate new design efficiencies with each product generation that reduce size, energy use and more to establish the industry's lowest total cost of ownership.

GatesAir's innovations extend to the studio, where turnkey solutions help our customers create and manage content across on-air and production facilities in alignment with today's rapidly evolving requirements. This forward-looking philosophy extends to innovations in media transport, where both broadcasters and public safety/emergency response teams utilize our solutions to reliably move voice, data, audio and video between locations using traditional and emerging connections, from RF to IP.
Find out more about GatesAir by watching a webinar given at their Engineering Week 'E-Week'