WorldDAB General Assembly 2019, Brussels, Belgium
Organised by

Date: 5th - 6th November 2019
Location: Brussels, Belgium

The WorldDAB General Assembly 2019 will take place in The Square Convention Centre, Brussels on 5-6 November. This event will bring together over 200 experts from across the broadcast, automotive and receiver manufacturer industries to discuss developments that have influenced the radio industry.
Networking drinks sponsor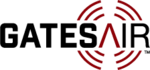 | | |
| --- | --- |
| Coffee breaks sponsor | Lanyard sponsor |
| | |
Exhibitors

WorldDAB General Assembly 2019 conference venue
Square – Brussels Meeting Centre
Mont des Arts/Kunstberg
B-1000 Brussels, Belguim
Tel: +32 2 515 13 00
Entrance: Coudenberg 3, labelled as number 4 on the map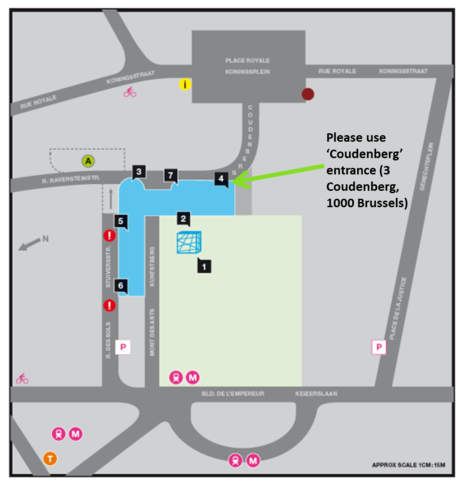 Directions to the venue
By car
There are two public car parks with over 1700 parking spaces. Parking Albertine is the closest car park and is situated underneath SQUARE with direct access to the venue from the inside. Both car parks are accessible 24H and both have recharging facilities for electric cars. For direct access from the car park, please go to level -3 and follow the directions to SQUARE. This route provides direct elevator access. A short walk away is the Grand Place car park which is conveniently placed midway between SQUARE and the UNESCO world Heritage site of the Grand Place…
By plane
Brussels Airport is a speedy 17 minutes by train from the Central Station, stopping at the European Institutions on the way. At peak times, 6 trains run every hour and from the Central Station, which is only three minutes walk to SQUARE.
By public transport
The Central Station of Brussels is a short walk across the Mont-des-Arts public gardens. All main tram, bus, metro and train lines converge here, as well as the fast train from Brussels International Airport. Train routes to every part of Belgium run from the same station which includes the cities of Antwerp, Brugge, Charleroi, Gent, Mons and Liège.
Metro lines 1 and 5, tram lines 38, 63, 65, 86

Bus lines 29, 48, 66, 71, 86, N06, N08, N09, N10, N11

Bus lines 48 and 95

Bus lines 38, 71, N06, N08, N09, N10, N11, N12

Trams 92 and 93

Accommodation
IMPORTANT: Brussels is a popular destination and will be busy during the time of this event - we recommend you book your accommodation as early as possible.
There are a number of hotels nearby at different budgets including:
ibis Brussels off Grand Place (5 mins walk)
3-star hotel
Rue du Marché Aux Herbes 100,
1000 Bruxelles, Belgium
+32 2 514 40 40
Hotel NH Collection Brussels Grand Sablon (8 mins walk)
4-star hotel
Rue Bodenbroek - Bodenbroekstraat, 2,
B-1000
Brussels - Belgium
+32 2 518 1100
Hotel Novotel Brussels off Grand Place (5 mins walk)
4-star hotel
Rue du Marché Aux Herbes 120,
1000 Bruxelles, Belgium
+32 2 620 04 29
Hotel NH Brussels Carrefour de l'Europe (5 mins walk)
4-star hotel
Rue aux Herbes, Grasmarkt Straat 110
1000 Brussel, Belgium
+32 2 504 94 00
Hilton Brussels Grand Place (4 mins walk)
4-star hotel
Carrefour de l'Europe 3
1000 Bruxelles, Belgium
+32 2 548 42 11
Get your DAB solutions in front of key decision makers
The WorldDAB General Assembly is our annual flagship event and brings together over 200 attendees from the international digital radio, broadcasting, electronics and automotive industries. It offers unparalleled opportunities to discuss the current issues within the digital radio industry and to create a better understanding of the challenges affecting the market.
Three reasons to sponsor, exhibit or advertise at this event
Sponsor and exhibitor logos reach an audience of 7,000+ industry contacts via our online, email and social promotions for this event
Debut your latest products and services to 200 delegates from 20 countries by placing an advertisement in the programme brochure, also shared online
Engage with potential customers in a face to face discussion while showing them your products on a table top display in the exhibition
Attendees include:
Commercial and public broadcasters

Chip, receiver and equipment manufacturers

Network operators

Regulatory bodies

National digital radio rollout bodies

Automotive manufacturers (OEMs, Tier 1s, Tier 2s)
Download the brochure for more information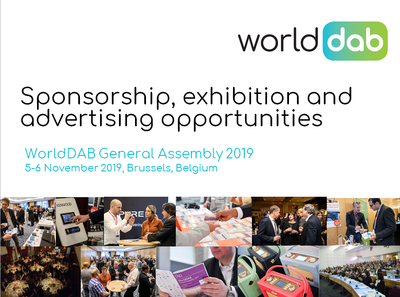 The deadline to book is Thursday 19 September 2019.
Contact rebecca.keene@worlddab.org for more information.
Gala Dinner

The Gala Dinner will be held on 5 November 2019 at the Belgian Comic Strip Center. Enhanced by an exceptional Art Nouveau home designed by Victor Horta, the Comics Art Museum is just as much a tribute to the pioneers as a glimpse of contemporary comics art.
Address
The Belgian Comic Strip Center - Museum Brussels
Rue des Sables 20
1000 Brussels
Tel.: + 32 (0)2 219 19 80
Getting there:
The venue is approximately a 13-minute walk or a 6 minutes drive from the General Assembly venue, SQUARE.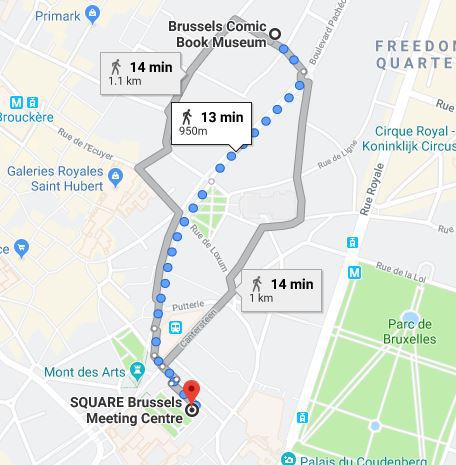 November 5th
11:00 - 12:30
WorldDAB General Assembly - member session (NB: only WorldDAB members may attend this session)
12:30 - 14:00
Networking Lunch
14:00 - 16:30
WorldDAB General Assembly - Day 1
19:30 - 22:30
Networking drinks and Gala Dinner
November 6th
09:00 - 15:30
WorldDAB General Assembly - Day 2

WorldDAB General Assembly 2019, Brussels
WorldDAB members can register up to two delegates free of charge.
For more than two delegates, and for non-members, the following registration fees apply:
Non-member: €350
Member: First two delegates free of charge, additional delegates €175 per registration (reduced conference only fee)
Register as an Attendee
---