Distribution platforms
Research and analysis by a number of organisations outlines the case for broadcast radio, and why radio transmitted via radio cellular networks (LTE) is not a solution: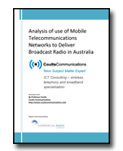 Analysis of use of Mobile Telecommunications Networks to Deliver Broadcast Radio in Australia
This report finds that mobile broadband communications networks, particularly in regional areas, are not a replacement for broadcast free to air radio.
Coutts Communications, Australia, November 2014

Broadcast or broadband? On the future of terrestrial radio supply
Analysis of radio transmission in Bavaria, Germany, through DAB+ or LTD - comparing the costs of supply
Bayerische Landeszentrale für neue Medien (BLM) and Bayerischer Rundfunk (BR), Germany, March 2014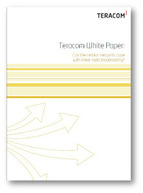 Radio via 3G/4G instead of FM/DAB+ – how hard can it be?
Teracom AS, Sweden, November 2012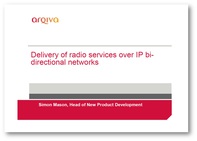 Delivery of radio services over IP bidirectional network
Simon Mason, Head of New Product Development gave the following presentation at the WorldDAB 2010 General Assembly in Dublin, Ireland.
Mobile broadband can provide a complementary service to broadcast radio – but delivering a comparable service would require a huge investment and there is no business case for mobile operators, broadcasters or listeners.
Does 5G make sense for radio?

The head of technical and infrastructure department at German national public broadcaster Deutschlandradio, Chris Weck, assesses 5G and whether or not the technology is a suitable platform for radio broadcasting.
Read more

DAB+, FM or IP?


This study presented by Arqiva at IBC 2019 delves into the economic parameters of comparing DAB, FM and IP transmissions, and argues that DAB+ provides the most affordable means of distribution for radio.
Read more

DAB+ or mobile - an overview

Patrick Hannon, WorldDAB President, gives an overview of the key arguments and shows why DAB+ is a much more compelling proposition for broadcasters and listeners.
Read more

DAB+ or mobile - the story

The latest research and information from around the world, showing how DAB+ remains the best option for delivery of broadcast radio and why mobile cannot compete on cost or reliability.
Read more

DAB+ or mobile - the facts

The facts on DAB+ and mobile broadband, covering each aspect of the distribution, business case and impact on the listener.
Read more

The expert view on 5G

Saul Friedner, 5G expert at LS Telcom, discusses the potential shape of the next generation of mobile technology and how this might impact the business case for delivering radio.
Read more

The cost of delivering radio over IP compared to FM and DAB+

Marcello Lombardo, Project Manager at the EBU, explains why they researched the cost of delivering radio over mobile broadband and some of the conclusions from the report.
Read more
Further research and analysis on the subject can be found here.
A new EBU Technical Review paper examines the real world costs of distributing and consuming radio and concludes that broadcast technologies remain the best option.