UK – Government support and digital growth reflect DAB+ uptake
17.11.2020 by WorldDAB
The UK was one of the pioneering DAB markets and today, over half of all listening is on digital. At the WorldDAB General Assembly earlier this month, Digital Radio UK's Ford Ennals and Yvette Dore provided an overview of the UK digital radio market and Ian O'Neill, Head of Radio at the UK Government's department of Digital Culture, Media, and Sport, told us what the UK is doing to help safeguard the future of radio.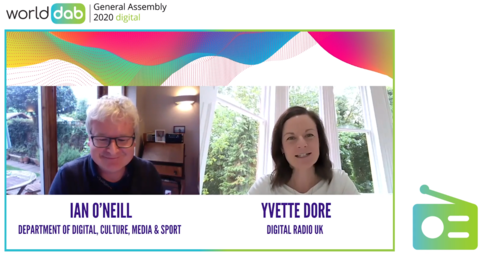 Ian O'Neill and Yvette Dore speaking at the WorldDAB General Assembly

Growing figures and digital offering
Despite the disruption caused by Covid-19, overall radio listening has remained robust. By the end of Q12020, digital listening had reached 58.6% of all listening, with 70% of digital listening taking place on DAB/ DAB+. The growth in digital listening has been driven by an increase in the number of cars fitted with DAB, the launch of new national commercial stations on DAB, as well as in-home online listening, said Dore.
The commercial radio sector has also continued to expand with new stations launching throughout 2020. There are now 54 national stations available on DAB/DAB+ across the UK – the most recent of which launched in October.
Digital Radio UK initiative
Online sales have also surged in light of the pandemic, a trend that is expected to continue according to Ford Ennals. However, retail continues to play an important role, and with that in mind, Digital Radio UK has launched a new initiative to help highlight the importance of radio to consumers and retailers alike. A digital radio Retail E-Learning site has also been developed to help retailers and manufacturers communicate the great radio offering available in the UK.
Government initiatives
As noted by O'Neill at the General Assembly, the need for radio has been very high in recent months, and in order to help the radio sector through the pandemic, OFCOM relaxed a number of regulatory requirements regarding local radio and local radio production, enabling stations to broadcast remotely given the lack of access to studios. The UK Government also worked with transmission provider Arqiva on a packagesof rebates aimed at small commercial radio stations, while the UK's community radio fund – a £400.000/ year radio fund for community station – was used as an emergency support funding for stations that saw their advertising revenue decrease dramatically.
10 years of growth for DAB
Over the last ten years, the percentage of new cars factory-fitted with DAB surged, going from 4% in 2010 to 94% in 2020. This figure is set to reach almost 100% following the UK Government's introduction of a law that requires all new passenger cars with a radio fitted sold in the UK to be equipped with digital terrestrial radio.
The UK Government is also in the process of extending commercial radio licences, while OFCOM has started the process for the licencing of small-scale multiplexers across the country, ultimately helping hundreds of local commercial and community stations launch on DAB/DAB+.
Digital Radio and Audio Review
Set up following the UK reaching 50% digital listening, the Government's Digital Radio and Audio Review is a joint government and industry project bringing together the radio industry to "ensure set plans for a vibrant and healthy long-term future for UK radio". The aim of the review, noted O'Neill, is to assess radio's future in the wider audio market, and make sure that UK radio content continues to thrive moving forward.
---
Posted in: