WorldDAB member focus - Fraunhofer IIS
16.02.2021 -

- Fraunhofer IIS WorldDAB Member - Germany

by Rebecca Keene, Stakeholder Relations Manager, WorldDAB

Q&A with with Markus Prosch, Senior Engineer, Active contributor to WorldDAB developments and activities, Fraunhofer IIS
What markets does your company support and what solutions do you provide?
For over 30 years, Fraunhofer IIS has been a constant innovator in digital radio services and technologies, and a reliable supplier to the radio broadcasting industry – all along the broadcast chain from studio to receiver, and with plenty of integrated one-stop solutions for quick-to-market manufacturer success.
In terms of technologies, Fraunhofer IIS has deep in-house know-how on the DAB+ and DRM standards themselves, the required audio codecs, data application codecs including Journaline text application and Emergency Warning Functionality (EWF), and transport protocols such as EDI/MDI, the modern IP-based studio-transmitter link.
Our ready-to-use solutions equally span the full transmission chain from the well-established ContentServer technology and audio and Journaline encoder components to the receiver-side decoder and chipset modules. The fully featured and ready-to-deploy DAB+ MultimediaPlayer radio app brings digital radio to mobile platforms, while professional automotive-grade SDR software features maximum-ratio-combining (DAB-MRC) and platform-integrating hybrid radio.
In addition, we develop ready-to-deploy service offerings and proposals for new business opportunities, such as public signage services, remote content monitoring services, and radio schooling.
Can you tell us about your most recent projects?
DAB EWF ensures that Digital Radio receivers automatically switch over or even switch on in the event of an impending disaster, placing DAB at the core of national disaster announcement networks. EWF combines standard DAB features including the DAB advanced text application Journaline, making detailed and multilingual instructions available on demand also to people with hearing loss. After continuous local EWF tests and integration with the German BBK public warning infrastructure MoWaS, EWF over DAB is now ready to be fully established in Germany and other European countries.
Fraunhofer DAB ContentServer technology supports the latest DAB standard V2 (including OE announcements and (OE) test alarm announcements) and regional profiles including right-to-left scripts and automatic conversion of Arabic contextual characters to Arabic Presentation Forms-B. Professional configuration options give advanced users and developers maximum access to the signalling parameters. The technology is prepared to be integrated into cloud-based deployments.
What do your customers value most from your solutions?
We support manufacturers building products based on our feature-rich, highly reliable and innovative technologies and solutions. With our in-depth expertise in all aspects of DAB+ and more than 30 years of experience in system development and implementation, we are able to offer our customers comprehensive support in developing up-to-date radio solutions all along the transmission chain, bringing them to market quickly, and benefiting from our commitment to continuous innovations and long-term and trust-based customer relationships.
From community radio stations all the way to major DAB network operators: users value our powerful and well-established ContentServer headend technology. Through our continuous development, it is always up to date with the latest standard and features updates and its flexibility allows for all kinds of applications. Our experts together with our OEM partners develop solutions for the most demanding DAB networks and broadcaster requirements.
We also see rising demand from receiver manufacturers for complete test coverage – much more than simple file-based or on-air signal verifications could provide. The Developer Edition of our DAB ContentServer technology supports virtually every signalling, parameter and content combination the DAB standard allows, way beyond the capabilities of regular broadcast encoders.
What advice would you give someone considering deploying DAB+?
Audio is and remains a core component of digital radio services. Broadcasters should place significant emphasis on the best possible audio contribution and encoding quality, while innovative focus and pop-up stations can attract new listeners to radio.
In addition, broadcasters should invest in DAB+'s advanced multimedia capabilities to bridge the gap between broadcast and IP-based online offerings. Often it is as simple as reusing existing web content and thus making the station's full listener information available on standard radio sets without the need for Internet access. Most modern DAB+ headends including DAB+ ContentServer technology also support the broadcast of SPI station logos, programme accompanying DL+ and SlideShow images. A sensible combination of these capabilities enables broadcasters to make their programmes even more attractive and to generate new revenue sources; Journaline in particular has the potential to open a whole new dimension of experiencing and monetizing digital radio.
EWF makes digital radio an essential part of the national infrastructure for disaster management and alert dissemination. Regulators should demand full EWF support in all DAB+ receivers.
In conclusion, Fraunhofer IIS is and remains a trusted cooperation partner for the broadcasting industry from broadcasters to manufacturers, to ensure that the full potential of digital radio DAB+ will be explored in the future and applied for the benefit both of listeners and of the broadcasting industry.
Digital Radio – Webinar Overview from Fraunhofer IIS on Vimeo.
QR-code linking to the video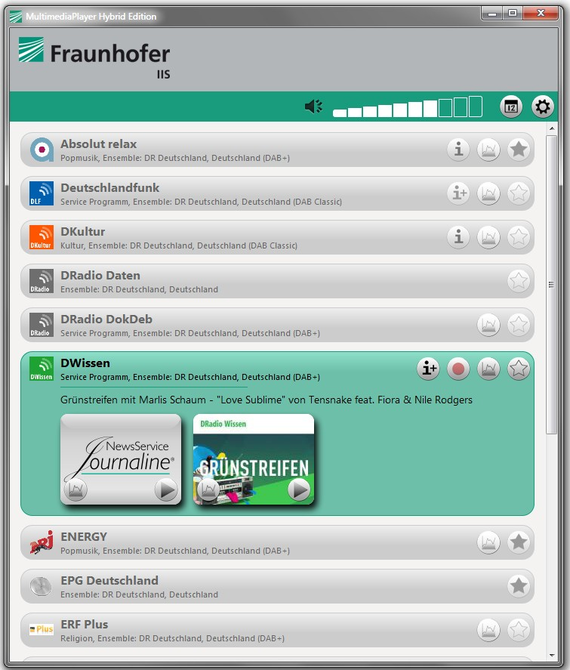 Fraunhofer DAB+ MultimediaPlayer Radio App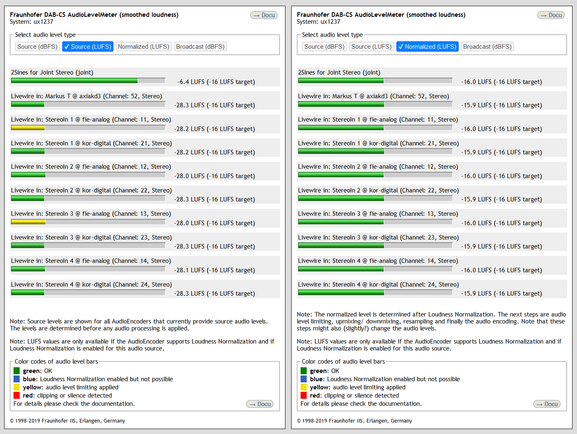 Fraunhofer DAB ContentServer R7 – Audio Loudness Normalization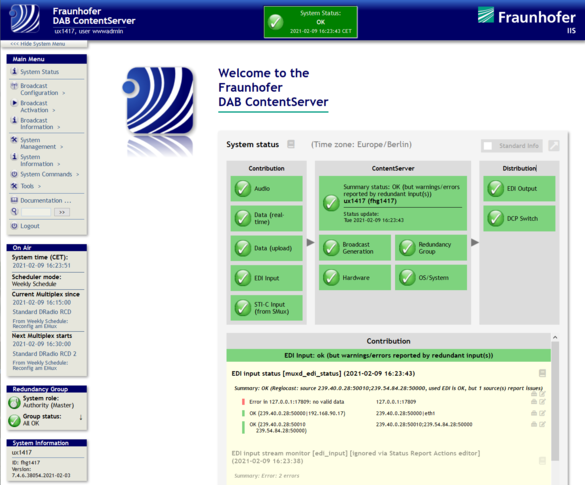 Fraunhofer DAB ContentServer R7 – System Status Overview with Redundancy Management