"Stronger together" at maRadio.be Digital Radio Day
03.02.2021 by WorldDAB
Belgium's French speaking radio industry comes together to celebrate digital radio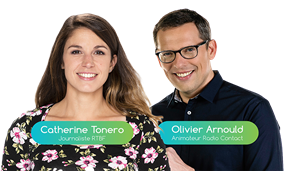 Thursday 11 February sees French-speaking Belgium's radio sector join together for a celebration of all things digital radio.
Organised by the national body responsible for coordinating the promotion of digital radio, MaRadio.fr, Digital Radio Day 2021 will be a live, virtual event with the latest updates on the progress being made with Belgian radio's transition to digital.
The event features keynotes from the President of maRadio.be and EDRA, Francis Goffin, the Minister for Media, Bénédicte Linard, and the President of the Belgian CSA, Karim Ibourki.
Results of a recent maRadio.be/Ipsos survey on DAB+ listening and perceptions will be presented, and delegates will also hear about how ma.Radio.be intends to continue to raise awareness about DAB+ with listeners throughout 2021.
Participants will hear international perspectives on digital radio from WorldDAB President Patrick Hannon, as well as from Radioplayer, Norway and Switzerland.
DAB+ was officially launched in Belgium across Flemish-speaking parts of the country in November 2018, while the official launch of DAB+ in French-speaking Belgium took place in November 2019.
DAB+ population coverage across the country currently stands at 95%, while the number of new cars equipped with DAB+ in the country was last reported as 59%, a figure which is expected to grow significantly following the implementation of the EECC directive, which requires all new passenger cars sold in the European Union to be equipped with digital radio receivers.
---
Posted in: