WorldDAB General Assembly (members only)
Organised by

Date: 16th November 2022
Location: London, United Kingdom
Types: Conference

16 November
Hall Two, Kings Place
King's Cross
90 York Way
London, N1 9AG
The General Assembly gives WorldDAB members the opportunity to hear directly from the WorldDAB leadership including the President and Committee Chairs about progress over the past year, and the forum's priorities for the coming year. The recipient of the WorldDAB Award for Outstanding Service will be announced at this meeting.
12:00 – 13:00 Networking lunch
13:00 - 14:30 General Assembly meeting
14:30 - 15:00 Coffee
Agenda
Steering Board Report: Patrick Hannon, President, WorldDAB and VP Corporate Development, Frontier Smart Technologies


Technical Committee Report: Lindsay Cornell, Chair, WorldDAB Technical Committee and Principal Systems Architect, BBC


Automotive Working Group Report: Martin Koch, Chair, WorldDAB Automotive Working Group, Volkswagen AG / CARIAD


Marketing Group Report: Jacqueline Bierhorst, Vice President & Chair, WorldDAB Marketing Group and Project Director, Digital Radio Netherlands


Spectrum and Network Implementation Committee Report, Hanns Wolter, Chair, SNIC and Technical Director, DAB Italia


Finance Committee Report: Ron Schiffelers, Treasurer and Senior Director Program Management, NXP Semiconductors


Announcement of the recipient of the WorldDAB Award for Outstanding Service
This meeting is restricted to representatives of WorldDAB members only.
Members will receive an invitation to this meeting by email. If you did not receive an invitation email contact projectoffice@worlddab.org.
Venue
Kings Place is situated just a few minutes' walk from King's Cross and St Pancras stations, one of the most connected locations in London and now the biggest transport hub in Europe.
The conference venue address is:
Kings Place
90 York Way
London, N1 9AG, UK
Click here for more detailed information about travelling by public transport and car parking in the area. 
Hotels
hub by Premier Inn, King's Cross
Travelodge London Kings Cross Royal Scot
Travel to England from another country during coronavirus (COVID-19)
Link to latest government information

Venue and Covid-19 measures
Read about the conference venue's health and safety measures on the Kings Place website here.

Optional tour - British Library
16 November 15:00 - 16:30
The British Library is the national library of the United Kingdom housing some of the world's most exciting, beautiful and significant books, maps and manuscripts, from the the Magna Carta and Shakespeare to Florence Nightingale and Gandhi, and from Mozart to McCartney.
The collection of over 170 million items includes artefacts from every age of written civilisation and the Library keeps the UK's archive of printed and digital publications.
Our one-hour guided tour will show you the highlights of the British Library's treasures and will give you the opportunity to appreciate its stunning architecture.
The British Library is a 15 minute walk from the Summit conference centre.
For more information and to join this tour contact Project.Office@WorldDAB.org.
Please note numbers are limited - book early to avoid disappointment.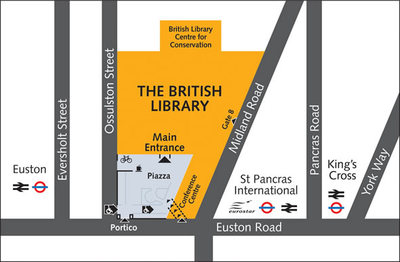 November 16th
12:00 - 13:00
Networking lunch
13:00 - 14:30
General Assembly (members only) - Hall Two, Kings Place and virtual
14:30 - 15:00
Afternoon coffee break
15:00 - 16:30
Optional tour - Guided tour of British Library
19:00 - 22:00
Gala Dinner - London Canal Museum, King's Cross

Register to attend (virtually on Zoom)
Please choose this option only if you plan to attend the General Assembly (members meeting) as a virtual attendee. Do not choose this option if you plan to attend in-person. Should you need to change your registration to be an in-person attendee, you can do so by visiting https://www.worlddab.org/events/detail/621#!registration and choosing the link (Register to attend in-person).
Please contact projectoffice@worlddab.org with any questions.
---