Radiodays Europe 2019
Event Attended by WorldDAB
Date: 31st March - 2nd April 2019
Location: Lausanne, Switzerland
Types: Conference, Seminar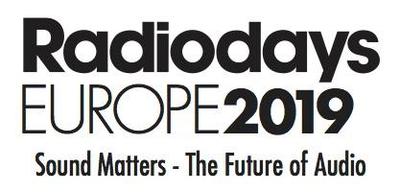 The theme for Radiodays Europe Lausanne 2019 is 'Sound Matters - The Future of Audio'. This theme will run through all parts of the conference, exhibition and events which will be held at Radiodays Europe 2019, in Lausanne, Switzerland on 31st March to 2nd April.
Radiodays Europe was started as a radio conference, but it's become more than just radio in recent years. Increasingly radio is part of a mix of 'sound' industries. Competing, innovating and merging although all with the common theme of 'sound'. Radiodays has in recent years become "The meeting point for the world of radio and audio" and this year it's the place to find out why 'Sound Matter' and is the future of audio.
All of the innovations in recent times affecting radio, Spotify, Voice controlled devices, Podcasts etc, remain in the arena of sound. There has been a revolution in the sound world with new platforms, new formats and now new devices offering threats and opportunities to radio in equal measure.
Whether the sound is music or the human voice or now and in the futue the AI voice, sound is still a large part of peoples lives. Radiodays Europe has therefore expanded to include radio and audio with speakers from both industries and other worlds which profoundly influence the 'sound' of radio today and in the future.
Exclusive WorldDAB member discount offer
Registration for Radiodays Europe in Lausanne, 2019 is now open! Basic registration is €796 (+ Swiss VAT). As a partner organisation, WorldDAB is able to offer its members the special discount price of €510 (+ Swiss VAT).
This offer is valid until 20 January 2019. More details, including the code needed to register, can be found in the member's area of the WorldDAB website.
Please note, after 20 January there will still be a discount price for members: 550 Euros (+ Swiss VAT), but after 15 February there will only be full price tickets available - so don't delay if you plan to attend.
Radio Hack Europe by Radiodays Europe is an open development and prototyping event around the theme "Radio and media of tomorrow", which is intended for anyone interested in shaping the future of radio in Europe.
For its third edition, this 48-hour spin-off event from the Radiodays Europe conference, will take place from Friday evening 29 March 2019 (warm-up and team building) to Sunday afternoon 31 March 2019 (pitching and jury voting), at École polytechnique fédérale de Lausanne (EPFL), one of Europe's most famous science and technology institutions, which is located in Lausanne on the shores of Lake Geneva. Participation is open to media professionals, entrepreneurs, researchers, students, and anyone who has a keen interest in new media and technology. This includes broadcasters, journalists, content producers, manufactures, service providers, designers, and software developers.
The ideas and prototypes that will be developed during the hackathon will be evaluated by a jury, and the winners will have the opportunity to present their work to the participants of the main Radiodays Europe event on 1-2 April 2019.
Further information on registration, who can attend, where to stay (including a discount on hotels), and how to get to the venue can be found on the Radio Hack Europe registration page. And make sure to check out the FAQ page for answers to common questions.
The organization of Radio Hack Europe is supported in part by the MediaRoad project and led by the Initiative for Media Innovation (IMI).