WorldDMB workshop at IBC: Internet radio - threat or accelerator to DAB digital radio
Organised by

Date: 16th September 2013
Location: Amsterdam, Netherlands
Types: Workshop

Monday 16 September 2013
11:00 – 12:30
Rai Amsterdam - Room G102-103
Followed by a networking lunch
The integration of the second screen within the traditional linear model for TV is now well underway, but is there a parallel with radio, and can listeners look forward to a mix of internet and live radio? Is internet radio a threat or an accelerator to DAB broadcast markets? Plans for a switchover from FM to DAB/DAB+ digital radio are on-going or under discussion in UK, Norway, Sweden, Denmark and other territories. The world in which radio competes is changing, with traditional radio under pressure from new content delivery mechanisms. In this workshop WorldDMB brings together radio industry experts to share their perspectives on the digital future of radio.
This workshop is part of the Industry Insight series at IBC 2013, and registration is free.
For more information about the event please email the events@worlddab.org
Topics covered during the workshop will include:
Update on the EBU Vision2020 project

What is the right balance between broadcast and internet-delivered radio?

When do commercial and public service broadcasters compete and when do they collaborate?

The future of radio content across different digital radio platforms

How radio broadcasters are using technology in different ways to help shape their future

Where does the internet and DAB/DAB+ digital radio sit within the different delivery methods?

How is commercial radio dealing with the current economic crisis and how are they diversifying and innovating through the use of internet and DAB digital radio

How some of the brightest broadcasters across the world are using new platforms to offer new services to audiences

Confirmed speakers include:
Annika Nyberg, Media Director, EBU

Ford Ennals, CEO, Digital Radio UK

Mark Friend, Controller, Multi-platforms and Interactive, Radio, BBC

James Cridland, Radio Futurologist
The workshop will be followed by a Panel Question & Answer discussion.
Click here to view a draft programme.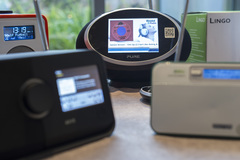 WorldDMB will be co-exhibiting with IDAG at this year's IBC. WorldDMB and IDAG will  be demonstrating the latest DAB, DAB+ and DMB receivers in Hall 9, Booth D30.  The latest receivers from all price ranges including Pure, Grundig, Sony and Phillips will be on display along with a number of mobile devices such as USB enabled dongles, headsets and tablets with interactive screens. 
Delegates from the workshop are invited to join the WorldDMB Networking Lunch which will be held immediately after the workshop from 12:30. Come and meet WorldDMB members and key international digital radio industry stakeholders.