Home

/

Emergency Broadcasting - History
South Korea - Emergency Broadcasting - History
09.01.2014
The Korean government provides Emergency Warning services via the T-DMB network. Some Navigation systems with T-DMB function can show emergency messages when people are watching or receiving T-PEG service. Now KBS transmit emergency warning signals in FIDC channel, and MBC, SBS, YTN will transmit the signal shortly.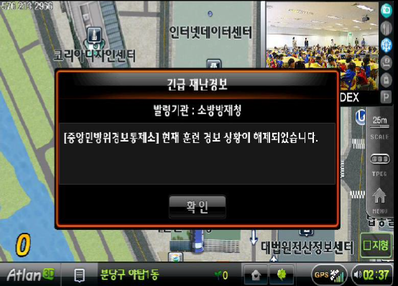 Example of Emergency warning service in Navigation receiver with T-DMB function
ETRI is under development of an emergency wake-up alter technology for T-DMB/DAB. As emergency situations occur, the T-DMB/DAB transmitters or repeaters transmit a wake-up signal and emergency message using the T-DMB/DAB signal. A T-DMB/DAB receiver would then 'wake-up', show the emergency messages and broadcast the emergency broadcasting channel.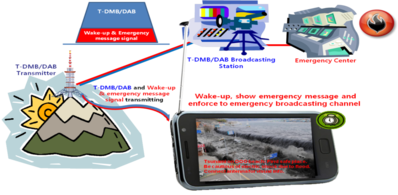 Configuration of emergency wake-up alter technology for T-DMB/DAB