WorldDAB to host Interoperability workshop in Erlangen, Germany
13.10.2022 -

- Innovationszentrum für Telekommunikationstechnik GmbH IZT WorldDAB Member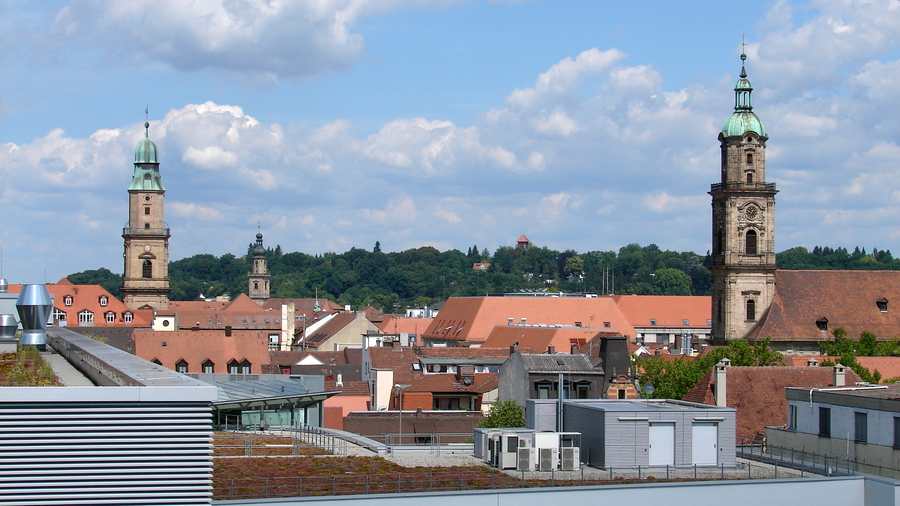 Photo: Erlangen, Germany
The WorldDAB Technical Committee (TC) organises an annual interoperability workshop, open to WorldDAB members for a technical test session. The purpose is to provide a discussion platform for all technical aspects of operating the DAB system. Transmission side experiments and receiver prototypes can be matched, and interoperability issues can be identified and addressed. Conclusions reached will be reviewed by the TC and may lead to specification updates.
Due to enduring travel restrictions, the WorldDAB Technical Committee has decided to hold this year's workshop as a combined in-person and online event. A one-day workshop (10:00-17:00 CEST) will be held at IZT's offices in Erlangen for in-person attendance. The workshop room will be open from 09:00 for setup.
An hour-long online session will be held to connect the wider community and provide for information exchange. Details and access link to the online session (16:00-17:00 CEST) are provided in the Members' Area of the WorldDAB website.
The workshop is open to technical staff from all WorldDAB members and invited guests. Broadcasters and equipment makers are invited to bring modulator and transmission equipment to generate test signals. Receiver makers are invited to bring receivers, prototypes and analyser tools to test against generated test signals.
The workshop provides opportunities for testing ETI file playout and reception to verify interoperability between services and receivers. Generally, any DAB system aspect is relevant to this workshop that is of interest to WorldDAB members. As an annual event, various topics have been explored before. Participants are encouraged to propose topics and provide ETI files. The following topics may be of interest, testing will be facilitated by available equipment and provided ETI files.
High service-count ensembles
Motivated by commercial deployment of new ensembles carrying 30 services or more in UK, Australia, Switzerland and elsewhere, specifics of FIC encoding, and FIG scheduling have become under review. On-air ensembles have been reported to cause issues with service acquisition.
Announcements and alarms
While announcements have been a main system aspect of DAB before, the specification describes an extensive set of functionalities for tuned and other ensemble announcements and alarms. Due to the dynamic nature of the signalling in-depth testing of signalling and receivers is required.
SPI programme information and station logos
Exploring practical aspects of coding and service formatting assists broadcasters and receiver makers in addressing implementations. As of recently a use case for cross-ensemble service logo provision has been trialled.
Non-Latin Text
ETSI TS 103 176 (v2.4.1) introduces new coding facilities to support non-Latin text specifically in FIG2 labels and dynamic label segments. A text control field indicates requirements in the receiver to support the text encoded in Unicode. Various region-specific profiles lay out a minimum glyph set and rendering capabilities required. Receivers can be tested at handling the new encoding scheme and dealing with FIG1 and FIG2 labels.
Service following, international linkage sets
Service following is being implemented widely, specific aspects of service linking (FIG 0/6), frequency information (FIG 0/21) and other ensemble services information (FIG 0/24) in relation to receiver behaviour and performance can be evaluated. Of specific interest are the validation of international linkage sets, ECC provision and service Id matching.
Ensemble reconfigurations and regionalization
Regionalized services often combine service following and ensemble reconfiguration to provide regional broadcasting for certain periods throughout the day. This complex combination of signalling aspects can be tested in transmission and reception.
Audio loudness
As a response to observations with on-air ensembles, the best practice of audio encoding and loudness adjustment is under review. Real-world ensembles have been reported to exhibit issues with loudness settings leading to loudness jumps between services and audio artefacts in the receiver.
Service list management and service component information
Signalling to indicate changes to the service list has been introduced with DABv2 and is now part of the DAB system standard. Testing of service component information (FIG 0/20) in advance of commercial roll-out helps to address issues in signal configuration and receiver response.
How to register
Registeration is available in the Members' Area of the WorldDAB website. Membership of the Technical Committee is open to all technical experts of WorldDAB member organisations. Find out how to get involved at worlddab.org/about/membership.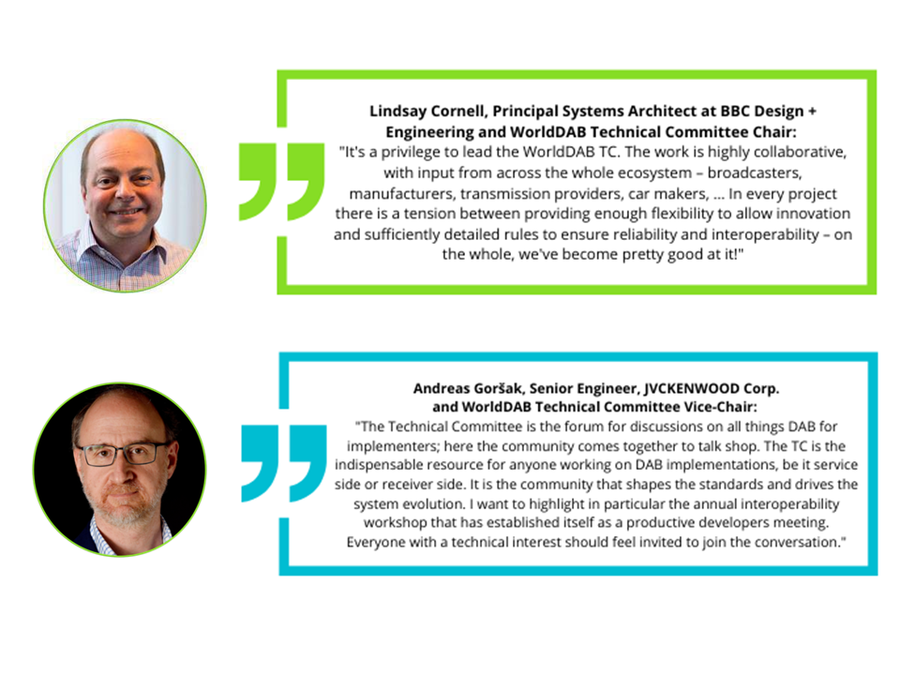 (WorldDAB) Read more