Metadata, small-scale DAB+ opportunities highlighted by WorldDAB at IBC2022
12.10.2022 -

Over 1,000 exhibitors and tens of thousands of attendees make IBC one of the largest annual gatherings of media and entertainment professionals in the world.
With the event back in-person at the RAI Amsterdam for the first time in three years, WorldDAB produced a Sunday morning briefing for delegates, exploring "new opportunities and new audiences with DAB+".
The packed event was hosted by WorldDAB's Vice-President and Project Director of Digital Radio Netherlands, Jacqueline Bierhorst. She set the positive tone, detailing how DAB+ is driving the uptake of digital radio, with it now being standard in over 90% of new cars sold in Europe.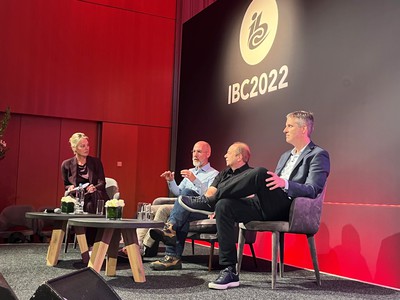 WorldDAB panel (L to R): Jacqueline Bierhorst, Gereon Joachim, Lindsay Cornell, Laurence Harrison
The good news continued with Laurence Harrison from Radioplayer Worldwide recapping highlights from last year's Car Buyers Survey which found that buyers say broadcast radio is the most valued audio source in the car. He described the figures as "unbelievably compelling and consistent," and urged that broadcasters and car manufacturers collaborate to keep radio prominent and a good experience.
Lindsay Cornell, Chair of the WorldDAB Technical Committee, provided expert advice on using metadata to ensure stations look their best in the car. For broadcasters, he advised using the Service and Programme Information (SPI) to provide metadata over DAB to enhance services, and for device makers to decode the SPI over DAB in the background to enhance the User Interface.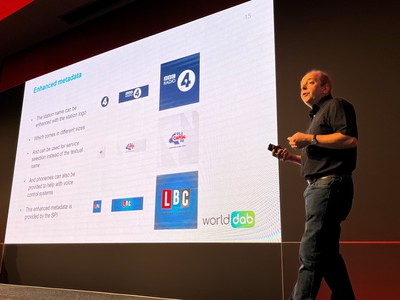 Lindsay Cornell, Chair of the WorldDAB Technical Committee
Gereon Joachim from Xperi further emphasised the vital nature of metadata, saying that broadcaster-owned and created non-linear content has an important role to play in local market content discovery and personalisation. He showed a new example of song lyrics displayed on a Mercedes dashboard using DTS Autostage, with the metadata providing branding and deep engagement for listeners. Discovery only works with metadata – without it, it will become increasingly difficult to find the station, Joachim warned.
The second half of the WorldDAB event explored opportunities with small-scale DAB+. Hanns Wolter, of DAB Italia and the Chair of WorldDAB's Spectrum and Network Implementation Committee, noted that small scale does not mean free. Multiplexing and distribution requires some skill, he said – but it does allow lower entrance costs. Wolter's takeaways were that small-scale solutions are for all operators, and can be a flexible and future-proof solution for multiplexing. He added that "when adopting small-scale solutions, it's mandatory to be really good at IT and IP!"
Lukas Weiss from Digris outlined the company's operations in Switzerland, where FM is due to be switched off in 2024. Innovation – such as incorporating display advertising – had been the key to its success, he said.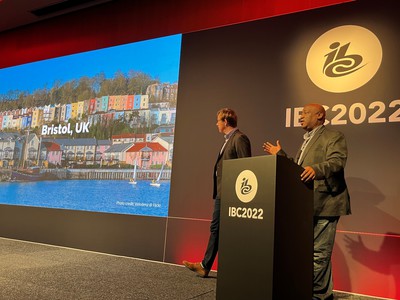 Nick Piggott of Bristol Digital Radio (left), and Donald McTernan from Ujima Radio
"Think differently, work locally," was the message from Nick Piggott of Bristol Digital Radio, which operates the small-scale multiplex in the west of England, and Donald McTernan from Ujima Radio, one of the community stations broadcasting on the mux. "The fear, uncertainty and doubt around small-scale DAB was not real," said Piggott. "We don't call it small-scale DAB," added McTernan – "it's just radio to us."
Piggott said that using appropriate technology was critical: "we've built a minimum viable product – a saloon car, not a luxury vehicle." Together they described how spectrum offered to community stations for DAB helps in two ways - a digital transition for community and smaller radio, and new funding source for them. "DAB can be done very cost-effectively without disrupting the existing ecosystem to make the most of the opportunity," Piggott said.
Gerard Lokhoff, project manager of DAB allotment 76 and the EUregio Digitaal Foundation brought further examples from the Netherlands of DAB+ 4 Brainport, the local multiplex in Eindhoven, which carries two public and seven commercial stations. Lokhoff also announced the launch of LocalDAB.org, a new website to aid organisations aiming to go on air with small scale DAB transmissions. The site will share practical information based on experience gained in creating local DAB ensembles and extensive tests with hard- and software used for digital transmissions.
IBC2023 will be at RAI Amsterdam from 15 - 18 September 2023.
IBC TV interview: Opportunities in DAB+ with session host and WorldDAB Vice President, Jacqueline Bierhorst: Watch the video