WorldDAB members at IBC2022: EBU
08.08.2022 - European Broadcasting Union (EBU) WorldDAB Member
Ben Poor, Senior Project Manager, European Broadcasting Union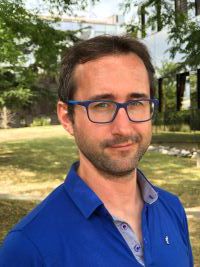 Give us a brief introduction to your organisation and the role it plays in the radio sector
The EBU is the world's leading alliance of Public Service Media with 112 organizations in 56 countries with nearly 700 radio stations – many of them the biggest brands in their respective country.
How do you see the digital radio sector evolving in the coming years?
I would be very happy to see some of the innovation that is happening in the UK being replicated elsewhere in Europe. Particularly the newer, more experimental digital stations that have seen much success, as well as the small-scale/low-cost multiplexes that are now popping up. The two are complementary, of course, with more available space at a lower cost being a catalyst for more experimentation and risk-tasking.
I'm also very interested in broadcasters adopting a "Digital First" strategy. Making the best use of the content that is produced, while also maintaining linear broadcast as a great way to develop a live and shared listener experience when it matters.
What are you most looking forward to at IBC2022?
After several years away, I'm looking forward to seeing familiar faces and also meeting new people. I'll be helping to demonstrate how the EBU is working with its members on how to make content multilingual using AI – including radio content – and it is always great to learn from what others are doing.
Where can we find you in RAI Amsterdam?
You can find us at our usual spot, but with a new address: Hall 10, Space D21.
WorldDAB at IBC2022:
New opportunities and new audiences on DAB+
Sunday 11 September 2022, 10:00 – 12:00, Room E102, free for Exhibition Visitor Pass holders.
The WorldDAB Project Office team will also be present throughout IBC2022. Get in touch to arrange a meeting with a member of the WorldDAB team.