Speaker Opportunities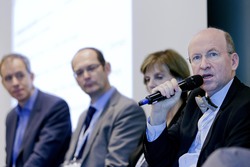 If you are interested in sharing your knowledge and expertise with the international digital radio industry and able to deliver a dynamic presentation then we would like to hear from you.
As a not for profit organisation we are not able to offer payment to speakers. However, by speaking at a WorldDAB event you can gain recognition as an expert in your field and have unique networking opportunities with leading industry stakeholders. WorldDAB speakers also receive coverage on the website and in materials produced for the event.
Interested?
Please email events@worlddab.org with details of your background and a summary of the presentation you would like make at a future WorldDAB event.