MBT 2023 Conference
Date: 31st May - 2nd June 2023
Location: Budva, Montenegro
Types: Conference, Exhibition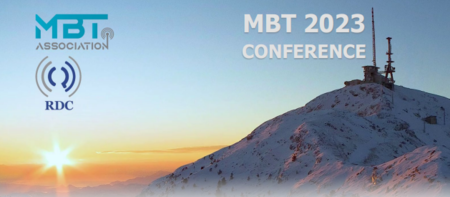 Radio-Difuzni Centar will be hosting their 19th regional meeting (MBT 2023) from 31st May to 2nd June, 2023 (Hotel Mediteran Bečići, Montenegro).
Who will attend: Delegates from broadcasting organisations and broadcast equipment manufacturers.
Representatives of broadcasting organisations from the region
Representatives of regulatory agencies
Equipment manufacturers
Special guests from international institutions
The themes of this year's MBT are:
Emission infrastructure and spectrum - energy efficiency and CO2 reduction, automation, network management, alternative energy sources, UHF spectrum protection;
5G broadcasting – new opportunities for broadcasters and network operators;
DAB+ digital radio - development in the region; small scale DAB, an opportunity for small radio broadcasters.
Exhibition opportunity:
In addition to the conference, there is an exhibition opportunity for manufacturers and distributors. Those who wish to showcase their company and/or products at the conference, should contact the organisers to enquire about stand fees.
Ivona Dabetić, Vision Event
Email: mbt2023@rdc.co.me Tel: +382 69 010 014
Conference programme:*
The opening of the event and the start of the first working session will be 15:00 (CEST) on 31st May. At the conclusion of day 1, a formal dinner will be held at the conference hotel, and on 1st June an optional afternoon cruise and lunch will be offered around the Bay of Kotor.
*The final agenda will be confirmed after registration closes.

Please register no later than 10th April, 2023 - registration form. Hotel reservations can be made via this link for the Hotel Mediteran, use the booking code MBT2023.