Radiodays Europe
Event attended by

Date: 26th - 28th March 2023
Location: Prague, Czech Republic
Types: Conference, Exhibition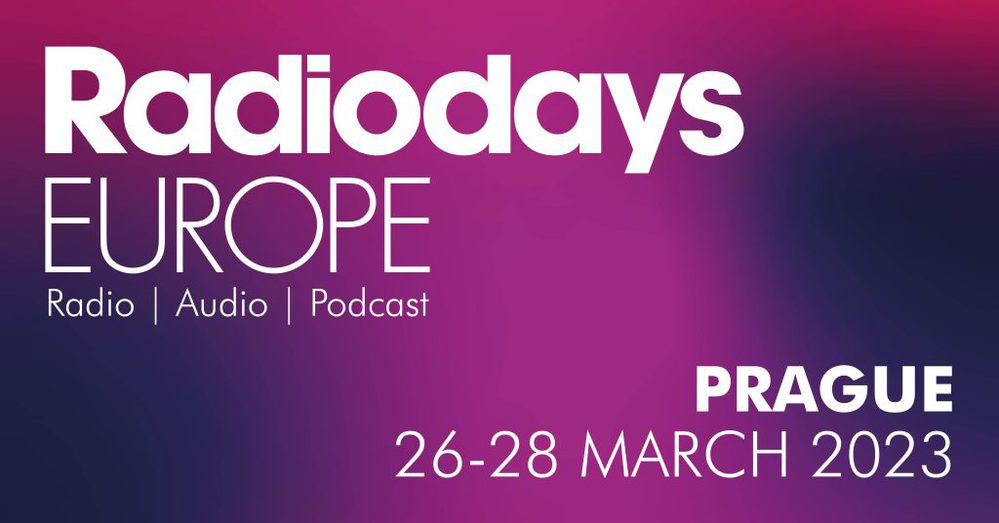 WorldDAB is an official partner of Radiodays Europe
The promotional code for WorldDAB members for a €50 discount is DAB23PRA.
Radiodays Europe 2023 will this year be held in Prague, the capital of the Czech Republic. The Czech Republic has a vibrant and dynamic audio market while Prague is an iconic city, a hub for culture, music and architecture. RDE Host Partners Czech Radio will be celebrating their 100 years of radio.
Radiodays Europe will be held this year on 26-28 March 2023. Sunday 26 March starts at 9.00am with Radiodays Europe Inclusive (formerly RDE Women) which will be held in the morning, in the afternoon there will be 3 Summits which focus on the themes - Youth, Podcast, Data.
The purpose of Radiodays Europe (RDE) is to raise the awareness of radio, audio and podcast. In its 13th year the conference has become the leading radio, audio, podcast conference of its kind in the world.
Attendees consist of public and commercial broadcasters in equal numbers, in-house and independent podcasters, service and product providers to the radio, audio & podcast industries. Also attending are independent consultants and freelancers plus in recent years large technology providers and platforms, representatives from the car industry and a variety of those from different unconnected industries.
Radiodays Europe is a world-wide destination for radio, podcast and audio professionals, a not-to-be-missed reference point. Radiodays Europe also provides a platform for showcasing innovation and independent journalism.
The programme starts on Sunday at 9.00am and Monday at 9.00am and ends on Tuesday at 16.00. Within the programme there are 4 tracks over the two days.
The themes for this year are: AI, Audiences, Content, Creativity, Data Research, Revenue generation, the Podcast Business, Audiobooks & their place in the audio world, up-skilling your team, social media with radio, audio & podcast, everything talent, the big world of tech and youth within our industries plus attracting young audiences plus much more as always with Radiodays Europe.
Exclusive WorldDAB member discount offer
Registration for Radiodays Europe in Prague, 2023 is now open! Basic registration is €699 (+ VAT). As a partner organisation, WorldDAB is able to offer its members a special discount price of €449 (+ VAT).
This offer is valid until 31 December 2022. More details, including the code needed to register, can be found in the member's area of the WorldDAB website.
Please note, after 31 December there will still be a discount price for WorldDAB members: €549 (+ VAT), but after 13 March there will only be full-price tickets available - so don't delay if you plan to attend.