WorldDAB General Assembly 2021 - members meeting
Organised by

Date: 8th November 2021
Location: Online
Types: Conference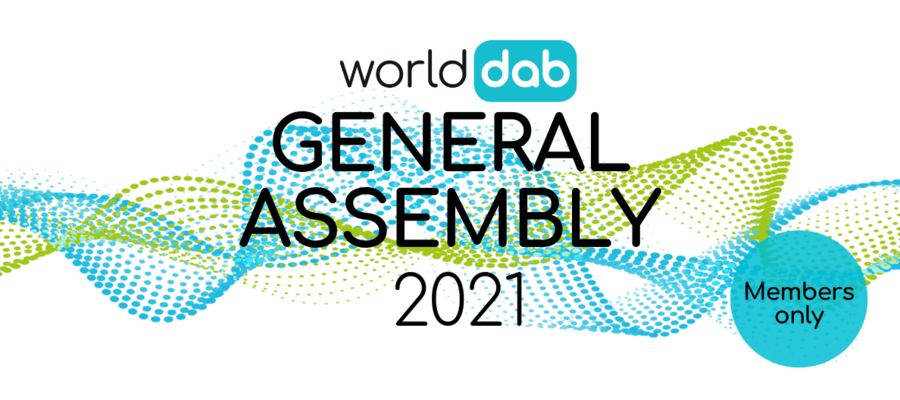 WorldDAB General Assembly 2021 - members meeting
8 November 10:00 – 11:30 CET
The General Assembly will take place on 8 November, and will give WorldDAB members the opportunity to hear directly from the WorldDAB leadership including the President and Committee Chairs about progress over the past year, and the forum's priorities for the coming year. The recipient of the WorldDAB Award for Outstanding Service and the results of this year's WorldDAB leadership election will be announced at this meeting.
Programme:
10:00 – 10:10 Steering Board Report: Patrick Hannon, President, WorldDAB and VP Corporate Development, Frontier Smart Technologies

10:10 – 10:20 Technical Committee Report: Lindsay Cornell, Chairman, WorldDAB Technical Committee and Principal Systems Architect, BBC
10:20 – 10:30 Automotive Working Group Report: Martin Koch, Chairman, WorldDAB Automotive Working Group and Head of Development Entertainment & Car Functions, Volkswagen AG / CARIAD
10:30 – 10:40 Asia Pacific Committee Report, Joan Warner, WorldDAB Vice President & Chair WorldDAB Asia Pacific Committee and CEO, Commercial Radio Australia
10:40 – 10:50 Marketing Group Report: Jacqueline Bierhorst, Vice President & Chair, WorldDAB Marketing Group and Project Director, Digital Radio Netherlands
10:50 – 11:00 Spectrum and Network Implementation Committee Report, Hanns Wolter, Chair, SNIC and Technical Director, DAB Italia
11:00 – 11:10 Finance Committee Report: Ron Schiffelers, Treasurer and Senior Director Program Management, NXP Semiconductors
Election results
Announcement of recipient of the WorldDAB Award for Outstanding Service
This meeting is restricted to representatives of WorldDAB members only.
Registration has now closed