WorldDAB Automotive 2020
Organised by

Date: 18th June 2020
Location: Turin, Italy
Types: Conference, Exhibition
WorldDAB Automotive 2020

The WorldDAB Automotive 2020 conference will take place in Turin, Italy on 18 June 2020. Join experts from the digital radio and automotive industries to hear about the ongoing work by broadcasters and auto manufacturers to further strengthen digital radio's position in the connected car.
Turin National Automobile Museum

Address
Corso Unità d'Italia 40,
10126 Turin
Tel. 011 677666
By public transportation
Metro: METRO Line 1 from Turin Porta Nuova and Turin Porta Susa stations to the LINGOTTO terminus. Traveling along via Nizza towards Eataly and immediately turning into via Garessio, you will reach MAUTO in about 9 minutes on foot.
Bus 18 (FINALMARINA stop), 34 (CTO stop), 74 (CTO stop), 17 (ELLERO stop), 17 / (ELLERO stop), 42 (VENTIMIGLIA CAP. Stop)
City Sightseeing Bus Line B Stop 4
[To] Bike 120, 122, 124
If you arrive in Turin by car
All highways connect to the TANGENZIALE DI TORINO. We recommend that you take the Corso Unità d'Italia exit and follow the signs for the Automobile Museum.
If you arrive in Turin by plane
Bus Sadem shuttle to Torino Porta Nuova or Torino Porta Susa stations, then take the Metro METRO Line 1 to the LINGOTTO terminus.
parking area
The Automobile Museum does not have a reserved parking for visitors, but in the surroundings there are several parking possibilities, both free and paid (Parking Ventimiglia, Bacigalupo, Molinette).
More information on the GTT website
Recommended hotels

Accommodation
IMPORTANT: Turin is a popular destination and will be busy during the time of this event - we recommend you book your accommodation as early as possible, find the recommended hotels below.
Hotel NH Torino Lingotto Congress (10 mins walk)
4 star, Via Nizza, 262 10126 Turin - Italy
Reservations: +44 203 4998 271
Tel.: +39 011 6642000
nhlingotto@nh-hotels.com
Double Tree Hilton Lingotto (10 mins walk)
4 star, Via Nizza 230, Turin, 10126, Italy
Tel: +39-011-6642781
FAX: +39-011-6642004
trntl_res@hilton.com
AC Hotel Torino, a Marriott Lifestyle HotelOpens in new window (12 mins walk)
4 star, Via Bisalta 11, Lingotto, 10126 Turin, Italy
Tel: +39 011 639 5091
Hotel Cairo (30 mins by public transport)
3 star, Via La Loggia 6, Lingotto, 10134 Turin, Italy
Tel: +39 011 3171555
Email: info@hotelcairo.it
WorldDAB Excellence in Automotive Award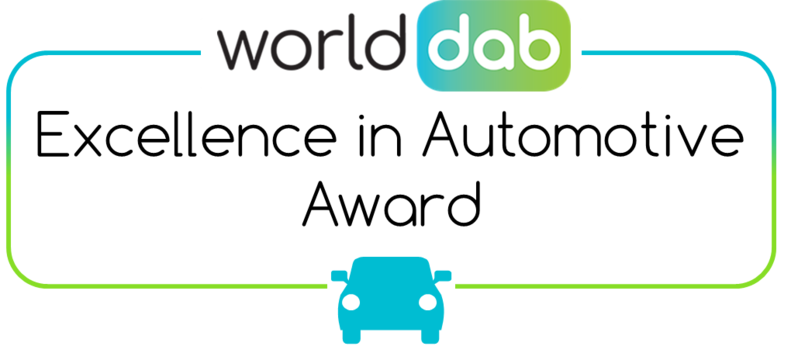 The WorldDAB Excellence in Automotive Award recognises outstanding work carried out on the development, innovation and promotion of digital radio within the automotive industry.
The award honours the most significant contributions of individuals, groups or teams working towards optimising the experience of digital radio in the car. Particular focus is placed on the recognition of technical expertise and project collaboration.
Find out more here
Sponsorship, exhibition and advertising opportunities
WorldDAB Automotive 2020 provides an ideal opportunity to communicate with a target audience and reach key decision makers.
A range of tailor-made sponsorship and exhibition packages have been designed specifically for you to optimise your company's exposure to a target audience.
Download the brochure for more information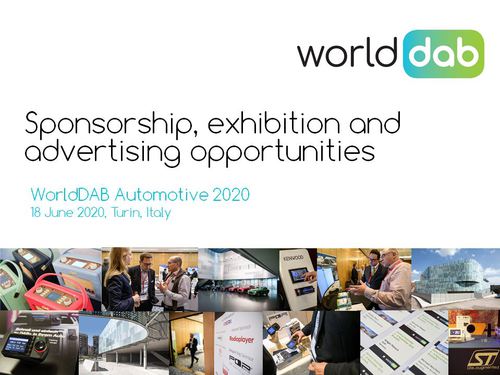 WorldDAB Automotive 2020
Attendance at this event is free, however pre-registration is required.
Register as an Attendee
---