55th ABU General Assembly and Associated Meetings
Event Attended by WorldDAB
Date: 30th September - 5th October 2018
Location: Ashgabat, Turkmenistan
Types: Conference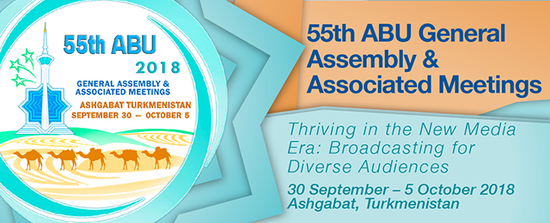 Thriving in the New Media Era: Broadcasting for Diverse Audiences

For the 55th time the movers and shakers in the broadcast industry from Asia – Pacific region and beyond will gather for six days of networking, exchange of ideas and discussions on future strategies, joint actions and partnerships.
The theme of the conversation this year is Thriving in the New Media Era: Broadcasting for Diverse Audiences. Decision makers and industry influencers will search for answers of some questions that can make or break broadcasting organisations in the new media age. What is it to be a broadcaster in an age of digital disruption? How to use new technological opportunities to reach traditional and gain new audiences? Are ABU members prepared to serve their increasingly media savvy and sophisticated audiences with the content they demand, on the devices they want and at the time that suites them? How do public service broadcasters stay true to their responsibility to serve the people's needs – consumers and citizens alike – and avoid falling behind technologically, journalistically, creatively and financially?
Join the conversation, be part of the joint solutions for thriving in the new media age.
Contact details
For general information:
Ms Natalia Ilieva
Head of SG Department
Asia-Pacific Broadcasting Union (ABU)
Tel: (60-3) 2282-3592
Fax: (60-3) 2282-5292
Email: ga@abu.org.my

For information related to visa application:
Ms Shabana Jan
News Project Officer
Asia-Pacific Broadcasting Union (ABU)
Tel: (60-3) 2282-7033
Fax: (60-3) 2282-5292
Email: shabana@asiavision.org
Click here to register.