ABU Digital Broadcasting Symposium 2019, Kuala Lumpur, Malaysia
Event attended by

Date: 4th - 7th March 2019
Location: Kuala Lumpur, Malaysia
Types: Conference, Exhibition, Workshop
The ABU Digital Broadcasting Symposium, now a prominent event within the industry calendar, provides international and regional exposure to our members and industry partners. The 2019 event will be the 15th annual symposium organised by the Asia-Pacific Broadcasting Union.
The 4-day event takes place at the Royale Chulan Kuala Lumpur and will comprise of a conference, industry exhibition and focused workshops.
Find the full version of the ABU DBS 2019 programme here
DAB+ workshop
WorldDAB will host a DAB+ workshop during ABU Digital Broadcasting Symposium as follows:
Date: Monday 4 March
Time: 13:30 - 16:30
Meeting room: Taming Sari 1, Royal Chulan Hotel, Kuala Lumpur

Topics coverd in the workshop include:
DAB+ developments in Asia Pacific
Connected vehicles - what broadcasters must do to ensure their place in the connected car
DAB+ business case studies from public and private broadcasters
International update on DAB+ and the latest technical developments
Find the full version of the DAB+ workshop programme here
Exhibitors




DAB+ Digital Radio Workshop - understanding the business case 
Monday 4th March 2019 - 14.00- 17.00
Room: Taming Sari 1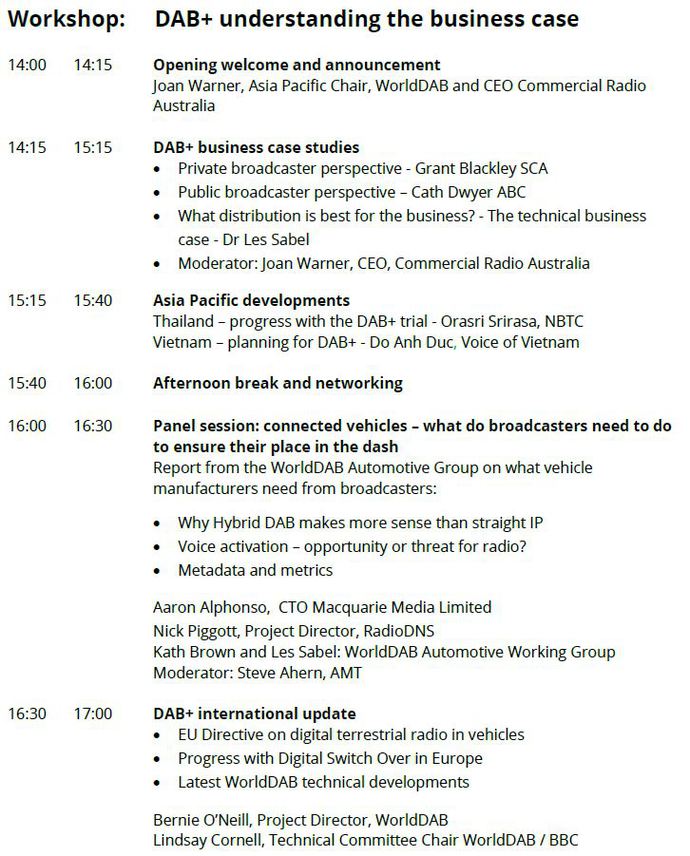 Speakers

Visit the DAB+ Pavilion
Meet representatives from key supply-chain and technology companies on the DAB+ pavilion in the exhibition at ABU DBS. WorldDAB members GatesAir, Paneda, Factum Radioscape, AVT and Xperi will be showcasing their DAB+ technology and solutions, and offering advice and support in launching DAB+.