Caribbean Broadcasting Union General Assembly 2018
Event Attended by WorldDAB
Date: 13th - 15th August 2018
Location: Kingston, Jamaica
Types: Conference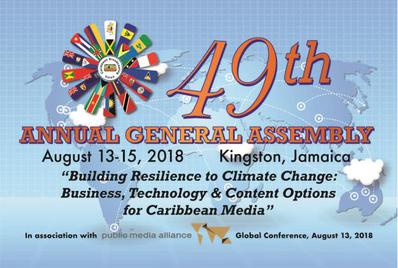 CBU 49th ANNUAL GENERAL ASSEMBLY – KINGSTON, JAMAICA – AUGUST 13-15, 2018
The President and Board of the Caribbean Broadcasting Union (CBU) are pleased to invite you to the 49th Annual General Assembly (AGA) taking place at the Jamaica Pegasus Hotel, in Kingston, Jamaica from August 13 to 15, 2018.
The theme of this year's Assembly is Building Resilience to Climate Change: Business, Technology and Content Options for Caribbean Media.
The conference, which will have an afternoon session dedicated to presentations by broadcast manufacturers and service providers, will be accompanied by an exhibitors' display.
PMA Global Conference
The CBU Assembly takes place consecutive to the biennial Global Conference of the Public Media Alliance (formerly the Commonwealth Broadcasting Association). As a result in mid-August, Kingston, Jamaica will be the centre of attention for public interest media executives from around the Caribbean and across the globe, including Africa, Australasia, North America and Europe.
Tour of Exhibitors' Booths
Immediately after the official opening, on Monday, August 13, delegates and other attendees will be invited to tour the exhibitor's booths placed strategically in the annex which serves as the entrance to the main conference room.
Partnership Benefits
Please find enclosed a detailed list of the partnership benefits including:
advertisement in the commemorative AGA booklet
advertisement on the CBU website www.caribroadcastunion.org and Facebook page
Exhibition booth for the three (3) days of the conference sessions, and
Speaking opportunity during the exhibitors session during the conference
With the presence of regional and international media owners and executives, and daily coverage going out across the Caribbean and the Commonwealth, this event will attract the eyes and ears of the region's decision-makers in media, making it an ideal visibility opportunity for your organisation.
Registration
With the kind support of the PMA, registration for the CBU AGA will be carried out on-line. To register, just review the Delegates' Information Note and then click on the link – CBU AGA 2018 Registration – to go straight to an on-line form. For more information on promoting your products and services at the CBU 49th Annual General Assembly, contact info@caribroadcastunion.org.
Sunday, August 12, 2018
10:00 - 16:00

Registration – Pegasus Hotel

09:00 - 13:00

CBU Board meeting – Pegasus Hotel (CBU Directors only)

PMA Board meeting – Pegasus Hotel (PMA Board only)

14:30 - 17:00

CARIBBEAN MEDIA SCREENING – Public

18:30 - 21:00

Broadcasting Corporation of Jamaica studios – in partnership with JAMPRO – Feature Speaker Mr Louis Hillelson, VP Sales, Reed MIDEM
Monday, August 13, 2018
| | |
| --- | --- |
| 07:30 - 08:45 | MEDIA MANAGERS' BREAKFAST – (by invitation only) – Pegasus Hotel |
| 08:00 - 08:45 | Registration – Pegasus Hotel |
| 09:00 - 16:30 | PMA CONFERENCE – Pegasus Hotel |
| 18:00 - 19:30 | OPENING CEREMONY – Feature Speaker – The Rt. Hon. Mr. Andrew Holness, Prime Minister of Jamaica (TBC) – Pegasus Hotel |
| 19:40 - 20:00 | TOUR OF EXHIBITORS' BOOTHS - Pegasus Hotel |
| 20:00 - 21:00 | PMA & CBU WELCOME RECEPTION - Pegasus Hotel |
Tuesday, August 14, 2018
| | |
| --- | --- |
| 07:30 - 09:00 | Registration - Pegasus Hotel |
| 09:30 - 10:15 | FEATURE ADDRESS – Hon. Dr. Ruel Reid, Minister of Education and Information |
| 10:15 - 10:30 | Coffee Break |
| 10:30 - 11:55 | FORUM 1 – in partnership with the Caribbean Community Climate Change Centre, CTU, ITU and UNESCO - Pegasus Hotel |
| 12:00 - 13:55 | LUNCHTIME FORUM – in partnership with the Broadcasting Commission of Jamaica – Feature Speaker, Prof. Anthony Clayton - Pegasus Hotel |
| 14:05 - 15:30 | FORUM 3 – in partnership with the Caribbean Community Climate Change Centre - Pegasus Hotel |
| 15:30 - 15:45 | Coffee Break |
| 15:45 - 17:15 | EXHIBITORS' PRESENTATIONS Pegasus Hotel |
| 19:15 - 22:00 | CARIBBEAN BROADCASTING AWARDS 2017 COCKTAIL RECEPTION & GALA – The Courtleigh Auditorium |
Wednesday, August 15, 2018
| | |
| --- | --- |
| 09:00 - 13:15 | CBU 49TH ANNUAL GENERAL ASSEMBLY (Members only) – Pegasus Hotel |
| 13:15 - 14:15 | Lunch |
| 14:30 - 17:00 | SOCIAL EVENT – Tour of Bob Marley Museum (TBC) |
Thursday, August 16, 2018
| | |
| --- | --- |
| 8.30 AM - 5.00 PM | SOCIAL EVENT – To be co-ordinated by PBCJ |