European Radio Show/Salon de la Radio 2018, Paris, France
Event attended by

Date: 25th - 27th January 2018
Location: Paris, France
Types: Conference, Exhibition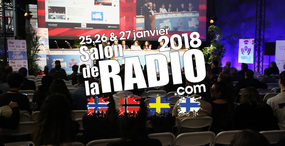 This 2018 edition will take place over three days in a location that is emblematic of Paris, a place that is a listed historic building, the Grande Halle de la Villette, which has already hosted the event previously.

4,951 media professionals came in 2016, and 5,800 in 2017, to discover what new products were on display, to absorb and take inspiration from the knowledge imparted by the 215 or so speakers, to meet up (each year the event provides a unique meeting place for all of the trade union and employers' organisations), to contemplate the radio of tomorrow and naturally to attend exclusive presentations, to meet one another and to gain insights into the latest industry trends.

More than 100 exhibitors showcased their products and services over the three days of the 2017 event (exceptionally including one evening), at the very Haussmann-style Grande ;Halle de la Villette. Below its 13-metre high gables, the exhibitors (UER, Multicam, Dalet, Netia, towerCast, David Systems, TDF, Maxi L'Air, RCS, Nagra, Pure Jingles, Brandy, Reelworld, Digigram, WorldDAB, LAWO and others) spread across two circular areas and more than 4,000 m², answered questions from visitors from the four corners of France and Europe, and promoted their goods and services.
This event is free to attend - register here.

DAB+ in France - communications, cars, connected
Friday, 26 January - 11:30 - 13:30, Red Auditorium
Salle des Débats, Grande Halle de la Villette, 211 Avenue Jean Jaurès, 75019 Paris
70% of the French population will be covered by a DAB+ signal by 2020, giving French radio the opportunity to compete in the digital age, and offering drivers the ability to enjoy continuity of radio listening across the country.
This session looks at best practice and lessons learned from countries that have already launched DAB+, and the business opportunities that DAB+ will offer French radio broadcasters. A panel of esteemed international speakers will discuss a range of engaging topics on their experiences of DAB+, which include:
A French radio broadcaster's perspective on DAB+
Speaker: Antoine Baduel, CEO, Radio FG
Norway's lessons learned from the DSO process
Speaker: Ole Jørgen Torvmark, CEO, Digital Radio Norway
DAB+ Global Update
Speaker: Jean-Marc Dubreuil, Programme Manager, WorldDAB
Marketing DAB+ to the listener
Speaker: Carsten Zorger, Director, Digitalradio Büro Deutschland
DAB+ in Italy – recent developments on receiver legislation
Speaker: Sergio Natucci, Chief Operating Officer, DAB Italia
Digital radio and the connected car – a powerful combination for broadcast radio
Speaker: Joe D'Angelo, Senior Vice President, Broadcast Radio, Xperi
The in-car user experience and converting the car parc
Speaker: Laurence Harrison, Market Development Director, Digital Radio UK
Session moderator: Olivier Oddou, Journalist, La Lettre Pro
Download the session programme here.
View the speaker bios here.
DAB Pavilion - booth C23
DAB+ experts will be available throughout the event offering advice and expertise on implentation of DAB+.