Radio Week 2017- Learning Conference, Kampala, Uganda
Date: 1st - 3rd February 2017
Location: Kampala, Uganda
Types: Conference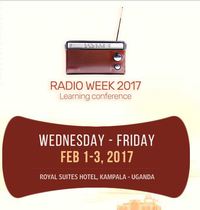 About The Conference

Radio Week Uganda Learning conference is East Africa's premier radio event which takes place annually and brings together radio professionals from every market size. It is a destination for radio people from all over world, and a meeting point for the East African radio industry, both private and public. It will be held in Kampala, the capital of Uganda, on the 1-3 February 2017
The Conference is a must attend for anyone who is interested in radio and the future of radio. It is the only place where radio leaders and producers across East Africa can meet and share the best radio of today and discuss the future of radio. The mission is to educate broadcasters in the region, as well as spread good ideas and to make better radio for our listeners.
Topics Include: Breakout sessions in programming, HD Radio, podcasting, marketing, ratings, ad sales, technical aspects, digital media, new revenues, journalism, legal aspects, business strategies, financial considerations, music industry relations, social networks, international opportunities, innovations in radio and more. This is a conference you can't afford to miss!
Who are the delegates?
Our delegates come from all over Africa and overseas, with a majority mainly from Uganda and within East Africa. The delegates come from commercial, community and public radios, while others work in consultancy.
The three day event is attended by:
Program Directors
Music Directors
General Managers
Producers
News Directors/Heads of News
Content Managers
On-Air Personalities/program Hosts
Station Managers
Digital Content Staff
Journalists/Reporters

Advertisers/Agency Executives
Industry vendors
Marketers
Radio Investors
Media Buyers/Advertiser
Marketing Directors
Engineering-Technical Development
Researchers
Network Executives
Regional Radio Executives
Consultants
Thought Leaders
I