ABU Digital Broadcasting Symposium, Kuala Lumpur, Malaysia
Event attended by

Date: 6th - 9th March 2017
Location: Kuala Lumpur, Malaysia
Types: Conference, Exhibition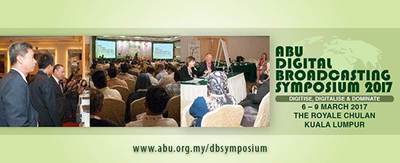 DAB+ Pavilion
WorldDAB will present a DAB+ pavilion in collaboration with DAB+ supply chain companies with a footprint in the Asia Pacific region - Connects2, Factum Radioscape, GatesAir, IZT, Paneda and RadioDNS. Come and meet the experts who can provide information and advice on implementing DAB+ digital radio.

Workshop: DAB+ expansion in the Asia Pacific
Monday 6 March, 14:00 - 17:30
Topics covered include: international update on DAB+, including Norway's digital switchover from FM to DAB+, hybrid radio, DAB+ in smartphones, commercial radio business case for DAB+, and a Q&A session on regulation, technical aspects and content on DAB+.
A draft programme for the workshop can be seen here.

DAB+ in the conference programme
DAB+ will feature throughout the main conference programme. Look out for DAB+ in various sessions to hear more about DAB+ technology enhancements, spectrum efficiencies, opportunities for new content on DAB+, hybrid radio, DAB+ digital infrastructure, and cost savings.

Contact us to arrange a one-to-one meeting with a DAB+ expert. Email projectoffice@worlddab.org
DAB+ receivers
Find out which brands are offering DAB+ digital radio receivers.
ABU Digital Broadcasting Symposium 2016
Monday 6 March 2017 14:00 – 17:00
The programme can be downloaded here
WorldDAB workshop: DAB+ expansion in the Asia Pacific

12:30

13:30

Workshop Registration - The Royale Chulan Hotel, Kuala Lumpur

14:00

14:10

Opening welcome

Joan Warner, Asia Pacific Chair, WorldDAB and CEO Commercial Radio Australia

14:10

14:30

International update

Progress with Digital Switch Over in Europe
WorldDAB strategic focus for Asia Pacific
Latest WorldDAB technical developments

Speakers:

Bernie O'Neill, Project Director, WorldDAB

Lindsay Cornell, Technical Committee Chair WorldDAB / Principal Architect, BBC

14:30

14:50

Introduction to Hybrid Radio

Why hybrid gives digital radio the best of IP and broadcast
DAB+ hybrid in vehicles

Speaker:

Nick Piggott, Project Director, RadioDNS

14:50

15:10

DAB+ in smartphones

Update on Open Mobile Radio Interface (OMRI) project
Why smartphones allow broadcasters to use seriously advanced features over DAB+

Speakers:

Jørn Jensen, Principal Advisor, NRK / IDAG

Dr Les Sabel, WorldDAB Technical Committee / Consulting Engineer, CRA

15:10

15:40

Implementing DAB+: Business Case studies

Commercial Radio Business Case – Joan Warner, CRA
Public radio business case - TBC
Norway Case study digital switch over – Jorn Jensen, NRK

15:40

16:00

Afternoon Break & Networking

16:00

16:40

Questions and Answer Break Out Groups

Group discussion will identify the common challenges in planning for digital radio migration

Regulation and Policy Group

Moderators:

Joan Warner, Vice President Asia Pacific WorldDAB and CEO Commercial Radio Australia

Jørn Jensen, Principal Advisor, NRK / IDAG

Technical group

Moderators:

Lindsay Cornell, Technical Committee Chair WorldDAB / Principal Architect, BBC

Dr Les Sabel, WorldDAB Technical Committee / Consulting Engineer, CRA

Content Group

Moderators:

Steve Ahern, Editor, RadioInfo and MD, Ahern Media Training

Nick Piggott, Project Director, RadioDNS

16:40

16:55

16:55

17:00

Breakout Group output summaries

Closing remarks