European Radio Show, Paris, France
Event attended by

Date: 29th - 31st January 2017
Location: Paris, France
Types: Conference, Exhibition

The European Radio Show in Paris undoubtedly marks the middle of the radio season. For three days it's all about celebrating our media and making the 6,000 or so visitors happy. Taking place between 29 and 31 January 2017, the event is free to attend for industry professionals, providing answers to both technical and programming questions. This year the event will showcase 100 exhibitors and, for the first time, will feature conference/workshop tracks in English.
WorldDAB is sponsor and exhibitor at European Radio Show and will host a digital radio session within the main conference programme on Tuesday 31st from 11:00-13:00. Titled "A vision for the future of radio: DAB+ in Europe", the session features broadcasters, regulators and digital radio expects from across Europe. More information on the session can be seen here
WorldDAB booth: C24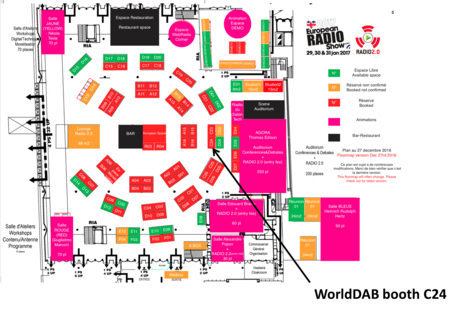 DAB+ in Europe - a vision for the future of radio

Tuesday 31st 2017 11h00 - 13h00
Salle des Débats, Grande Halle de la Villette, 211 Avenue Jean Jaurès, 75019 Paris
It is exciting times with DAB+ opening new markets and audiences across Europe. 2017 sees history made with the world's first digital switchover, starting in Norway on 11 January 2017. Switzerland is next in line, with the process due to start in 2020. EU governments are working together to accelerate rollout of DAB in Europe, building cross-border links to develop a European consensus about radio's digital future.
This session gives an update on the growth of DAB+ digital radio across Europe, from those countries ready for digital switchover to those in the process of launching.
Session produced by WorldDAB. Programme can be downloaded here