automotiveIT International Congress, London, United Kingdom
Event attended by

Date: 1st - 2nd July 2014
Location: London, United Kingdom
Types: Conference, Exhibition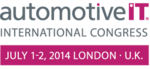 The automotiveIT international CONGRESS will take place on July 1-2, 2014 in London, United Kingdom.
The theme is: Connected Mobility 3.0 – IT Moves the Auto Industry
It will cover the most important new trend in the auto industry: the growing interconnection between personal mobility and the IT industry.
As the car joins the internet, mobility concepts evolve and auto retailing moves beyond the showroom, the automotive industry is facing major challenges and enormous opportunities. And most, if not all, are driven by ICT. New information technologies are offering the industry new brand shaping options, while connectivity is opening up a market that is set to grow exponentially to more than 200 billion euros by the end of the decade.
The CONGRESS is the only international event in Europe to look at the convergence of IT and the auto industry from a strategic perspective. It is a platform for discussion, debate and knowledge exchange for up to 250 senior automotive executives from automakers, suppliers, IT providers and other stakeholders. The CONGRESS provides a unique opportunity to discuss and drive the IT revolution in the 130-year-old car industry.
For more information, please contact:
Ms Nina Sauer
Media-Manufaktur International GmbH
Phone: +49 89 381 517 400
Email: sauer@media-manufaktur.com