"Expertenforum – Digitalradio im Auto" during IAA, Frankfurt
Date: 19th September 2013
Location: Frankfurt , Germany
Types: Exhibition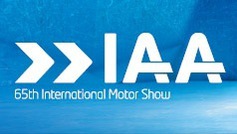 The VDA, Projektbüro Digitales Radio and WorldDMB will hold a workshop on DAB+ digital radio at the Internationale Automobil-Ausstellung (IAA - International Automobile Exhibition).
The future for broadcast radio is looking favourable, as more and more listeners are understanding the benefits of and are using digital radio. By September 2013 over 120 national, regional and local programmes will be distributed digitally in Germany, with more than 90% of the German population receiving at least one digital radio ensemble. This is a respectable success two years after the launch.

Therefore we and our partners host this event to provide a forecast of the upcoming evolution of digital radio over the next two years. Speakers will present first hand information about the status of network expansion and the variety of radio programmes currently available in Germany. Different aspects of digital radio rollout will be examined in-depth and questions will be answered in the various Q&A sessions. Networking opportunities are offered during lunchtime as well as after the event. The expert forum "Digital radio in the car" is aimed at representatives from the car industry, OEMs, retailers as well as suppliers for digital radio solutions in the car. Members of the press are also very welcome.
Issues that will be addressed will include:
Digital radio and why it is so important (for the German market)
The opportunities offered by DAB+ to public broadcasters
The potential challenges for OEMs
In-car multi-band chipsets
TPEG – safety relevant content for free
Programme:
Click
here
to view the programme in English and
here
for the German version and to register for the event.

Further information:
About IAA: http://www.iaa.de/
For any enquires please contact events@worlddab.org
Press Release
Click here to view a press release on the event.
Click here to view a summary of the event.
The following speakers for the Expert Forum are now confirmed:
Helmut G. Bauer
Media Consultant
Sebastian Kett
Consulting Engineer, SWR Radio and ARD Project Office, Germany
Sebastian Schreuder
Product Manager Car Entertainment, NXP Semiconductor NXP, Germany
Rainer Beihn
Technischer Leiter, Bayrische Medientechnik (bmt)
Thomas Kusche
Präsident des Verbandes TISA
Patrick Hannon
VP Corporate Development, Frontier Silicon
Delegates are able to register for the session here: http://www.iaa.de/index.php?id=13-b-fv23&L=1
NB: VDA is the organizer of IAA and will send an entrance ticket automatically by post to delegates who have registered to attend this Digital Radio event. This is free of charge.