19th WorldDMB General Assembly, Amsterdam, Netherlands
Organised by

Date: 5th - 6th November 2013
Location: Amsterdam, Netherlands
Types: Conference, Exhibition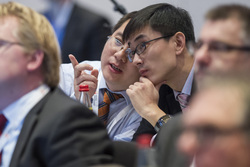 The WorldDMB General Assembly is the flagship event of the year and brings together the international digital radio industry. It offers unparalleled opportunities to discuss the current issues within the digital radio industry and to create a better understanding of the challenges affecting the market. The WorldDMB General Assembly enables networking with the key decision makers as well the opportunity to meet old friends and build new relationships.
This year's event reports on the continued growth of DAB/DAB+ digital radio across Europe, Asia Pacific and beyond. The programme includes a focus on marketing to the listener, and how to engage with retailers and advertisers, from the perspectives of broadcasters and receiver manufacturers.
Topics include:
Announcement of WorldDMB President and Steering Board election results
Update on digital radio receiver sales
Broadcast vs mobile internet: findings from a recent Swedish research report building a strong case for broadcasting
Overview of the Dutch digital radio market
Regional updates from Europe, Asia Pacific, Arab Countries and South Africa
Country updates and switchover plans, as more countries make announcements
Innovations around transmission solutions, for national, regional and local broadcasters
Update on developments within the automotive industry, traffic and travel via DAB
In-vehicle DAB+ demo outside the venue
Major Sponsors
Supporters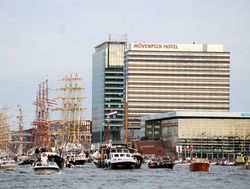 This year the WorldDMB General Assembly will be held at the Mövenpick Hotel Amsterdam City Centre.
Piet Heinkade 11
1019 BR
Amsterdam, Netherlands

For more information about the hotel click here.
Accommodation
To book a room at the Mövenpick Hotel Amsterdam City Centre contact the hotel directly via their website. Alternatively visit the Amsterdam Tourist Board website for more accommodation options.
Parking
There are two parking options.
Delegates can use the park and ride for 8 Euro a day. Click here for further information and directions.
Parking is available at the Movenpick Hotel for €4.29 per hour.
The WorldDMB General Assembly provides opportunities to exhibit, advertise and sponsor. The event provides an opportunity for your message to reach key descion makers from:
commercial and public broadcasters
chip, receiver and equipment manufacturers
network operators
regulatory bodies
automotive manufacturers (OEMs, Tier 1s, Tier 2s)
national digital radio rollout bodies
Click here for further information and costs of sponsorship and advertising opportunities or contact events@worlddab.org.
Confirmed Sponsors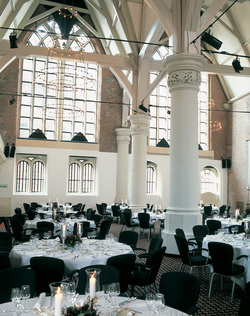 With key digital radio industry stakeholders expected to converge for the 19th WorldDMB General Assembly, the two day conference will be the ideal place to discuss and debate topics, make new acquaintances and catch up with old friends in a relaxed and vibrant setting. You will be welcomed on the first day with a buffet lunch and over the two day conference there are plenty of scheduled networking opportunities such as coffee breaks and the Gala Dinner.
The WorldDMB Gala Dinner is the social highlight of the two day conference. It provides an opportunity for WorldDMB members to meet and network with each other and potential new members in a relaxed and informal setting.
This year WorldDMB will host networking drinks and the dinner at the NH Barbizon Palace in the spacious, historical, columned interior of Sint Olofskapel (Saint Olof's Chapel).
Networking drinks will start from 18:45 and will be followed by a three course sit down dinner from 19:30 - 22:00.
Address: Prins Hendrikkade 59, 1012 AD Amsterdam, Netherlands
For directions from the Movenpick Hotel to the NH Barbizon Palace click here.
WorldDMB Award for Outstanding Service
(Per Erik Selemark Award)

This prestigious award is presented annually by WorldDMB at its Annual General Assembly Dinner which this year will be held on 5 November 2013 in Amsterdam, The Netherlands. The closing date for nominations has now passed.
The Award is given to a member of WorldDMB (individual) who is renowned for his or her exceptional efforts in carrying out the promotion and roll-out of the DAB family of standards
The award is offered in memory of Per Erik Selemark of Swedish radio, past Vice-President and Chair of the Technical Committee, who died in January 1999
Previous winners of the award are:

2012: Joan Warner, CEO Commercial Radio Australia, Chair of Asia Pacific Committee
2011: Hossein Yassaie, CEO Imagination Technologies
2010: Lindsay Cornell, Chairman of TC, BBC
2009: Larissa Erismann, WorldDMB Marketing Committee Chair, SRG-SSR
2008: Mr Zou Feng, ABS/SARFT, China
2007: Mr Markus Prosch, Fraunhofer IIS
2006: Mr Philip Laven, EBU
2005: Mr Frank Hermann, Chairman of TC
2004: Mr Goran Arvedhal, Chairman of RSC
2003: Mr Quentin Howard, Steering Board Member
2002: Mrs Julie Ackerman, Project Director 2000 – 2002
2001: Mr Percy Petterson, RSC Consultant, Chairman of SLC
2000: Mr David Witherrow, President 1995 – 1997
1999: Mr Frank Kozamerik, Project Director and Mr Frans Westra, Chairman Module 1
Download a PDF version of the programme brochure here.

19th WorldDMB General Assembly
WorldDMB members are welcome to register up to 2 free delegates for the conference. If more than two delegates are required to represent your organisation, or if your organisation is not a member of WorldDMB the following fees will be applied:
Members: £150
Non WorldDMB Members: £300
If a fee applies, you will be sent an invoice for this amount shortly after filling in the registration form below.
Hotel: The General Assembly will be held at the Mövenpick Hotel Amsterdam City Centre.
---