Home

/

Spectrum & Regulation
Spectrum & Regulation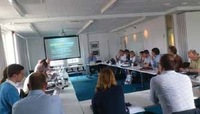 DAB+ digital radio allows for efficient use of spectrum enabling more services to be put on air more afforfably for broadcasters. The DAB family of standards are designed for Band III (174 to 230 MHz and up to 240 MHz in some countries).
DIGITAL RADIO TOOLKIT - KEY FACTORS IN THE DEPLOYMENT OF DIGITAL RADIO
The European Broadcasting Union published a Digital Radio Toolkit which examines the key success factors for radio digitization. The report focuses on good practices for introducing digital radio and describes various ways to handle the main digitisation issues by highlighting 30 factors that contribute to positive acceptance of digital radio by listeners. Each of these key success factors is illustrated with a specific national example. The experiences analysed in this report can be helpful when introducing national policies and broadcasting strategies for launching digital radio. View the full report here.
Click on the links below to download (pdf) more information on:
For information related to Regulation and Spectrum allocation in individual countries, visit the Country Information section. To find out about the WorldDAB Regulatory and Spectrum Committee click here.
Useful Links
http://www.cept.org
http://www.itu.int
http://stakeholders.ofcom.org.uk