Home

/

Introduction to DAB, DAB+
Introduction to DAB, DAB+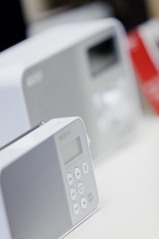 The DAB family of standards includes DAB and DAB+ for digital radio and DMB for mobile TV. They are flexible, global and open standards and are a means for transmission of terrestrial digital radio signals.
When the original DAB (Digital Audio Broadcasting) was first developed in the late 1980s, it was based on MPEG Audio Layer II coding, which is still commonly used in broadcasting today.
Since then, MPEG Audio Layer III, better known as MP3 has conquered the market of digital music players. Even though still the most successful technology on the market, MP3 has been overtaken in efficiency and performance by MPEG-4 (AAC). This integration of AAC into DAB allowed higher efficiency, meaning the same audio quality at lower bitrates - hence the birth of DAB+.
Another important innovation was the addition of video/multimedia capabilities to Digital Audio Broadcasting, allowing DAB to become a digital mobile television platform DMB (Digital Multimedia Broadcasting) as well as a multimedia digital radio platform.
Both for DMB and DAB+ the technical basis remains DAB. In other words, the physical layer is still the same, just new applications, new transport protocols and a second error control coding layer was added. All three technologies can therefore be used alongside each other on one multiplex and basically use the same infrastructure, so there is a whole range of possible multiplex scenarios.