Business Case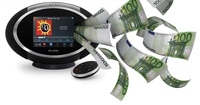 Radio needs a digital broadcast future. Through the DAB family of standards, radio can build on its strengths - great content, live, local, mobile, intimate and social - by lowering costs, enabling new content and by stimulating new revenue streams.
Reasons to go digital:
significant savings in transmission costs
improved quality of signal
opportunities to develop new content and grow audience / revenue
range of affordable receivers readily available with prices starting at USD 25 (expected USD 20 by 2015)
NEW RESEARCH - Drastic cost reductions using DAB+ compared to FM show it's time for DAB+
A report by Gates Air provides detailed information on the economic advantages of DAB+ introduction, and why the overall opex of DAB+ costs between 6 and 13 times less than FM:
DAB+ Transmitter investment costs are eleven times lower compared to FM
DAB+ energy savings are 41 times greater compared to FM
DAB+ Opex costs between 5,7 and 12,8 less than FM
DAB+ heat dissipation is 18 times lower compared to FM
Space savings on transmission site - 18 times less occupied floor space with DAB+ compared to FM
The cost of DAB+ transmitter tower and hall space is 18 times lower compared to FM
Reduced Service & Maintenance Cost - DAB+ maintenance is 1/2 that of FM
Click here to download the full report.
(The comparison is based on cost information available in January 2014)
Additional resources: