Products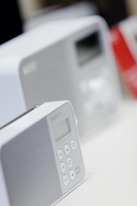 With hundreds of DAB/ DAB+ devices on the market with prices starting as low as 15 Euro (17 USD) consumers have plenty of choice when choosing what receiver to listen to their favourite digital radio stations on, whether at home, on the move or in-car.
Millions of DAB/ DAB+ devices have been sold worldwide. The DAB/ DAB+ receiver market continues to grow as the technology becomes more established in existing and new emerging digital radio markets.
With the first generation DAB patent having expired the cost of implications for manufacturers and consumers are lower. Prices for DAB/ DAB+ enabled devices are expected to fall even further.
For further information about receiver availability in each country visit the Country Information section of the website.
Additional resources:
WorldDAB provide support to manufacturers of DAB+ products and make ETI files available to WorldDAB members. Click here to find out more about the WorldDAB ETI Library.