Czech Republic
Last update: 19-02-2019 - older versions
Czech Radio has one regular multiplex in Prague. Currently there is one transmitter and Czech Radio has permission to operate this multiplex (issued by Czech Telecommunication Bureau directly to Czech Radio) until 2021 and Czech Radio has a technical operation agreement with České Radiomunikace.
Three other multiplexes are on air in the Czech Republic and are operated by TELEKO, Ceske Radiokomunikace and RTI.
Czech Radio plans to add more transmitters (in the scope of 4-6 months) for Brno (12D, 5kW), Ostrava (12D, 10 kW) and Pilsen (12C, 10 kW) areas. The targeted coverage (including those sites) is about 35-40% of the Czech population.
Network operator TELEKO operates one regular local DAB/DAB+ multiplex using band III and L- Band, which reaches 5.8 million inhabitants of the Czech Republic. The signal broadcasts in Prague and the surrounding area, in Příbram, Brno and the surrounding region, the Moravia-Silesian region, the Usti nad Labem region and Hradec Kralove region. 15 radio stations are being broadcast on the TELEKO multiplex.
Network operator RTI CZ operates 60 radio transmitters in the FM band, predominantly in Western Bohemia. In 2011 RTI CZ obtained a license for Digital Radio DAB (L Band) in the Pilsenregion, Carlsbad region, South Bohemian region and inPrague city. RTI cz provides DAB broadcasting in West and South Bohemia.
A pdf summary of DAB+ in the Czech Republic (produced by multiplex operator RTI.cz) is availabe here (English) (German) (Czech)
Last update: 01-02-2018 - older versions
Coverage of the Czech Republic by T-DAB is about 5.8 million inhabitants, or 62% of the population.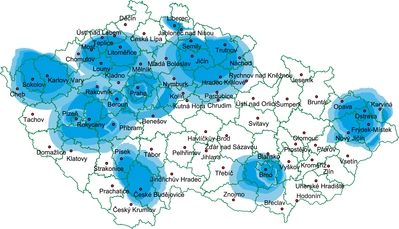 Coverage CrA DAB multiplex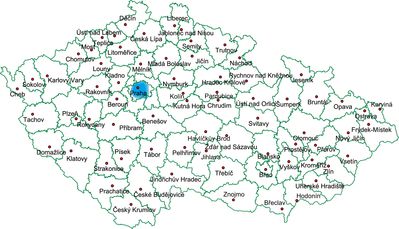 Coverage CRo DAB multiplex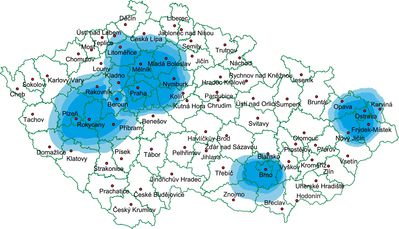 Coverage RTI cz multiplex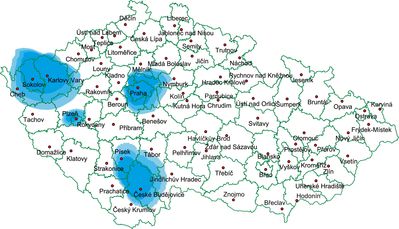 Coverage TELEKO multiplex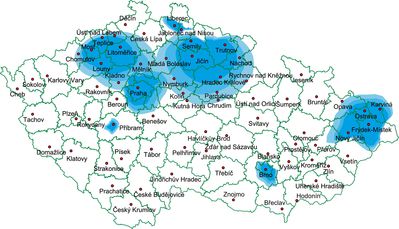 Last update: 02-06-2016 - older versions
In this country there are
on air.
A comprehensive listing of DAB+ services on air in the Czech Republic is available at the website http://www.digitalradiodab.cz/ by choosing the DAB v ČR option.
Slideshow services are offered by all network operators in Czech Republic. TELEKO uses the latest Rapid software in their DAB CLOUD MULTIPLEXOR. TELEKO transforms the news from RSS feeds into JPEGs and also sends pictures from webcams in studios or weathercams.
Example of services on air
Gama Radio was originally the local analogue station in the city of most Northern Bohemia. They had limited options for how to increase coverage. The station management started to collaborate with the network operators TELEKO and RTI cz and the program coverage area was expanded. Gama Radio now covers 5 million inhabitants. Benefits could be found on both sides. The station now covers more listeners without
dramatically increasing the costs, because no transmitters were built by the station itself and there were no licenses needed for the frequencies. The content licenses for digital radio were issued without any obstacles. For the network operator it enabled new attractive content for listeners and set a precedent for discussion with other stations.
SeeJay Radio is a dance radio station which was previously only available on the internet. The station now benefits from a larger audience due to free to air broadcasting via DAB+ on the RTI cz and TELEKO multiplexes. The station is promoting DAB distribution in its content.
| | Simulcast on AM / FM | Exclusive on digital | Total of services |
| --- | --- | --- | --- |
| DAB+ programmes | 16 | 13 | 29 |
Last update: 07-08-2015 - older versions
DAB receivers are available as an option in major car brands such as Škoda, VW, Audi, Seat, Mini, BMW, Ford, Jaguar, Land Rover, Lexus, Toyota, Volvo and Opel.
- Carmaker Škoda sold in 2014 - 2500 pieces of car radios with DAB+.
- Car audio system DAB+ still requires a surcharge in the Czech Republic.
Last update: 30-09-2013 - older versions
In August 2007 a trial was launched by TELEKO in cooperation with the public broadcaster Český Rozhlas with three DAB programmes and two DAB+ programmes. This trial used both Band III and L-Band and covered almost 130,000 people. A further trial began in June 2008, again as a joint project between the TELEKO company in cooperation with the public broadcaster Czech Radio. A 2.5Kw transmitter provided coverage of the capital city, Prague, to a population of around 1.3 million. The goal of this noncommercial trial was the promotion of digital radio to the Czech public and Government administrators. In early 2009 a further trial was launched in the second largest city Brno covering approximately 0.5 million people.
Trials have been completed in the Czech Republic and all network operators have been awarded with licenses. Technical trials e.g. for checking signal parameters are operated using the licensed frequencies as a part of the regular transmission implementation. For example, the company Ceske Radiokomunikace is using its L-band licensed frequency for such a test with two programs using the Prague-Zizkov transmitter since early 2013.
Last update: 25-06-2018 - older versions
Key features of regulation for digital radio in Czech Republic are:
L-Band used
Three network operators operate a number of regional or city multiplexes with public and commercial programs
Licenses valid for 10 years (till 2022/2023), but all interested in Band III when free
No analogue radio switch-off date
Analogue radio licenses are prolonged till 2025 when commitment to switch over to digital is signed by the license holder
Current network operators will ask for transformation of L-Band licenses to the Band III
Spectrum and content regulation is divided between the Council for Radio and Television Broadcasting (content) and the Czech Telecommunication Office (spectrum).
Each analogue radio license holder which signed the commitment to switch over to digital broadcasting received prolonged analogue license till 2025. Consequently 2025 could be understood as the analogue radio switch off date. There are no obstacles from the content regulator to start digital broadcasting and it has already started.
Spectrum regulator the Czech Telecommunications Office (CTU) has declared that their office will be technology neutral with regard to the DAB audio codec (DAB or DAB+). Licensing was focused on the L-Band which was free and implementation in Band III was waiting for the end of analogue TV transmission in the band (June 2012).
The Radio Spectrum Utilisation Plan (RSUP) for particular bands sets the detailed regulation for use of the frequencies. This part of RSUP is from 2008 and it is still valid. The regulatory body Czech Telecommunication Office is preparing the strategy for Band III and the selection procedure is expected to be launched in 2013.
Band III: According to NTFA Band III is allocated to broadcasting as a primary service and to land mobile as a secondary service. Wireless microphones are used in land mobile service only. The switch over to digital TV was finished end of June 2012 and Band III is ready for digital broadcasting, and is planned for T-DAB and DVB-T in accordance with Geneva 2006 Agreement.
L Band: A tender for 10 year licenses in the 13 largest cities for operation was started on 6 May 2011. Licenses were granted during the September – November period and the company Ceske Radiokomunikace received in total 12 licenses and the company RTI cz s.r.o. one for Prague. All licenses will expire in 2021. Individual authorisations for TELEKO in Block LA were awarded for five years with right to extend.
The main document for electronic communication regulation is the Act. No. 127/2005 Coll. On Electronic Communications. This document explains spectrum regulation in the Czech Republic and is the National Table of Frequency Allocation (NTFA) which allocates the frequency bands to particular radio communication services and describes the general conditions for frequency use.
Band III: According to NTFA Band III is allocated to broadcasting as a primary service and to land mobile as a secondary service.
Last update: 31-05-2018 - older versions
The "chicken / egg" problem was solved by the initiative of the first network operator TELEKO, which offered to include the content from the public broadcaster in the trials and other stations later free of charge. As compensation advertising spots were included in the content.
Other examples of the mutual cooperation were the interviews given with the TELEKO founder in the Czech Radio programme aimed at the popularisation of digital radio with the public. On the programme information was given that receivers are available on the internet or in the public broadcaster's own shop in Prague. This way, digital radio was introduced and listeners were made aware that digital radio is already on air.
The company RTI cz promotes digital radio open days in the Czech Radio. (Prague, Pilsen, Czech Budejovice).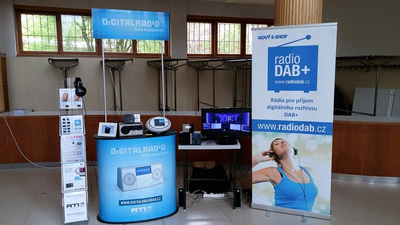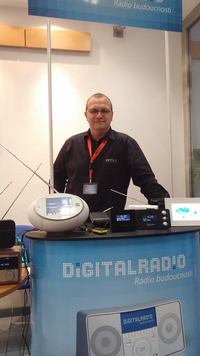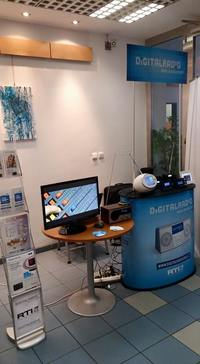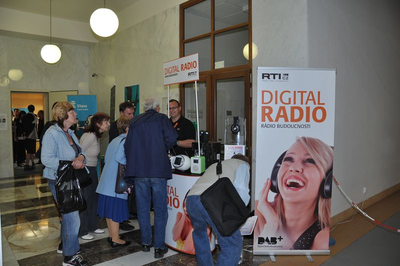 The company RTI cz operates its own e-shop with a DAB+ receiver (www.radiodab.cz)
The company RTI cz operates a Web portal about digital radio in the Czech Republic on www.digitalradiodab.cz. You will find here:
Current information
What is digital radio
History of digital radio
DAB in the Czech Republic (operators / list of radio stations / channel list / map coverage)
DAB in the world
Links to websites about digital radio
Updating websites and promotional brochures are being prepared after the launch of Czech Radio transmitters.
New digital radio support projects in the Czech Republic
1) Day with digital radio (Exhibition of DAB radio receivers and lectures on digital radio in cooperation with Czech Radio)
www.densdigitalnimradiem.cz (only in Czech) Promo video here: https://youtu.be/WvDdK3xqEMI
2) Digital radio in schools (lectures on digital radio at vocational schools)
3) DAB radio for the blind (RTI have prepared a Czech version of the audio files for the NOXON dRadio1 radio with voice output)
Last update: 09-01-2014
DAB radio is used for emergency warning distribution by distributing programs of the public broadcaster.
For example, during the floods in June 2013 the actual emergency information was included in the DAB radiotext transmission of two public broadcaster programs.
---
---
---
---
---
---
---
---
---
---
Select Country:
Key Information
Status:
regular
Population:
10.5 million
Population coverage:
62%
Services:
29 DAB+

Last update: 01.02.2018
Useful Links
Czech Radiocommunications a.s.
Services on Air
Czech Telecommunication Office
Regulator of spectrum, The Czech Telecommunication Office
Web portal about digital radio DAB+
Czech Radio
Czech Radiocommunications a.s.
The Council for Radio and Television Broadcasting
RTI cz s.r.o.
TELEKO s.r.o.
Czech Radio - Digital radio
Czech Radio - dab+