WorldDAB Award
The WorldDAB Award for Outstanding Service (Per Erik Selemark Award) is given to a member of WorldDAB (individual) who is renowned for his or her exceptional efforts in carrying out the promotion and roll-out of the DAB family of standards.
The award is offered in memory of Per Erik Selemark of Swedish radio, past Vice-President and Chair of the Technical Committee, who died in January 1999.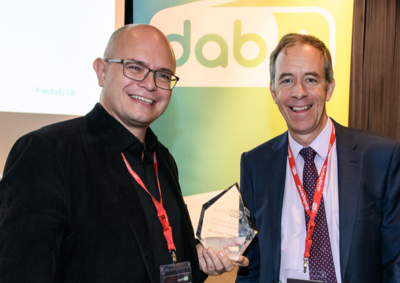 2018: Ole Jørgen Torvmark (pictured with WorldDAB President Patrick Hannon)
Previous winners of the award are:
2017: Thomas Saner, SRG
2016: Reiner Mueller, Technical Director, Bayerische Landeszentrale fur neue Medien (BLM)
2015: Anthony Sethill, CEO, Frontier Silicon
2014: Jørn Erik Jensen, Strategic Advisor at NRK, Norway
2013: Glyn Jones, General Manager Digital Radio Platforms, Arqiva
2012: Joan Warner, CEO Commercial Radio Australia, WorldDAB Asia Pacific Committee Chair
2010: Lindsay Cornell, Chairman of TC, BBC
2009: Larissa Erismann, WorldDAB Marketing Committee Chair, SRG-SSR
2008: Mr Zou Feng, ABS/SARFT, China
2007: Mr Markus Prosch, Fraunhofer IIS
2006: Mr Philip Laven, EBU
2005: Mr Frank Hermann, Former Chairman of TC
2004: Mr Goran Arvedhal, Former Chairman of RSC
2003: Mr Quentin Howard, Former Steering Board Member
2002: Mrs Julie Ackerman, Project Director 2000 – 2002
2001: Mr Percy Petterson, RSC Consultant, Chairman of SLC
2000: Mr David Witherrow, President 1995 – 1997
1999: Mr Frank Kozamerik, Project Director and Mr Frans Westra, Chairman Module 1
Nomination procedure
If you know a person who you feel deserves to be recognised for their Outstanding Service to WorldDAB, please send the following information to Bernie O'Neill, Project Director via email: bernie.oneill@worlddab.org.