Membership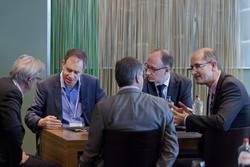 WorldDMB is responsible for defining the digital radio standards DAB and DAB+ for digital radio and DMB for radio and mobile TV.
Our goal is to promote the standard around the world. We work with sound and data broadcasters, network providers, car, receiver, chip and equipment manufacturers, governments and official bodies to encourage international co-operation and a smooth, coordinated roll-out of services.
Through our network of more than 85 companies and organisations from across the industry and from over 25 countries, WorldDMB is in the best position to assist in the transition from analogue to digital radio.