France
Last update: 11-02-2015 - older versions
Paris, Marseille and Nice have had access to digital terrestrial commercial radio (DAB+/DMB) services since June 20th 2014, as confirmed by the regulatory authority, the Conseil supérieur de l'audiovisuel (CSA). A total of 69 radio stations are currently on air in Marseille and Paris and 20th June marked the technical start date for many of the operators and stations in these cities. Broadcasters assigned to a multiplex have one month to begin broadcasting, under the rules set by the CSA.
DAB+ is now part of the multiplex allocation in France. The original CSA publication chose T-DMB as the digital radio
standard allowing for each radio station 104/1000 of a multiplex. Today T-DMB is still a possible technology for Radio
Numerique Terrestre (RNT) in France however with DAB+ each radio station has 76/1000 of a multiplex.
Trial services have been on air in Lyon and Nantes for several years. 13 stations are on air in Nantes, and 20 in Lyon. Lyon started broadcasting on a trial licence in April 2011. An additional trial is taking place in Rambouillet with the stated objective to test digital radio in mobility, including a TPEG service.
Last update: 29-09-2014 - older versions
The network operator (TDF) produced comprehensive coverage plans in 2009 ready for the start of national and regional services. One of the benefits of digital radio to French listeners, as pointed out by the CSA, is that it will allow greater coverage and more stations in many areas. This is important to the CSA who have a remit to provide the best possible service including coverage to the widest possible audience.
TDF has broadcast a mix of DAB+/DMB services in Lyon since 2008 with 10 to 12 radio stations. VDL also has two multiplexes in Lyon covering 85% of the regional population and some of the major highways. Trial services are on air also in Nantes. Combining the Marseille, Nice and Paris commercial services, nearly 20% of the population have access to a digital radio service. The CSA has the responsibility to take notice when the 20% threshold is achieved; this 20% population coverage would trigger the mandatory inclusion of digital radio in all receivers sold in France after a period which varies depending on the type of receiver.
Last update: 10-11-2014 - older versions
In this country there are
on air.
There are five regular regional commercial multiplexes on air in Paris and three in Marseille. Forty-four stations are on air in Paris and 25 in Marseille as of July 18th. 27 of the 44 DAB+ stations on air in Paris and 14 of the 25 DAB+ stations on air in Marseille are available exclusively via DAB+ digital radio (not on FM).
There are two trial local multiplexes on air in Nantes, three trial local multiplex on air in Lyon and one trial local multiplex on air in Rambouillet. 16 of the 20 DAB+ stations on air in Lyon and 7 of the 13 DAB+ stations on air in Nantes are available exclusively via DAB+ digital radio (not on FM).
Click here to download a list of all digital radio services on air in Paris, Marseille and Nice as of September 2014.
| | Simulcast on AM / FM | Exclusive on digital | Total of services |
| --- | --- | --- | --- |
| DAB+ programmes | 38 | 64 | 102 |
Last update: 29-09-2014
The automotive after sale manufacturers are also proposing a wider range of DAB+ car radio. Pioneer, Clarion, Alpine or Kenwood, among others, are all offering solutions in France.
Last update: 29-09-2014 - older versions
Digital radio receivers capable of receiving DAB, DAB+ and DMB audio are available in the market through some of the major retailers (FNAC, DARTY, Boulanger, Auchan, Virgin) or online.
The digital radio receiver brands Pure, REVO, Tivoli, Dual, Bose, Philips, Roberts and Sony are available to the French consumer
Last update: 29-09-2014 - older versions
After the findings of the Kessler report France was running a number of trials for the DAB family of standards. Trials currently on-air include:
RNT Lyon – A consumer trial is being held in the Lyon area with 15 commercial broadcasters on three multiplexes covering 85% of the regional population. Two multiplexes are operated by VDL and one is operated by TDF. This trial started in April 2011 and has been granted a licence to continue broadcasting and adding new stations and content.
RNT Nantes – A trial is currently being held in the Nantes area of France in co-operation with GRAM, a group of local radio broadcasters. A promotional campaign was launched to promote digital radio to listeners in Nantes and Saint Nazaire.
Last update: 29-09-2014 - older versions
Key features of regulation for digital radio in France are:
DAB+ was added to the French standards in August 2013

Band III

Commercial services for 3 cities (Paris, Nice and Marseilles) in

Band III

Further cities tenders will use the learning of Paris, Nice and

Marseille broadcast

No analogue switch-off date
The legal framework for digital radio was introduced gradually: the Act of 30 September 1986 as amended by the Act of Law of 9 July 2004 set the main legal elements of RNT (calls for applications, digital recovery of authorized services FM: Article 29-1 of the 1986 Act). It was supplemented by the laws of March 5, 2007 and March 5, 2009.
Analogue and digital licences are both issued free of charge. There is a quota for French music and new artists and the current analogue rules which govern advertising and sponsorship will also apply to digital radio. The selection of the candidates for the first application for Paris, Nice and Marseille were selected by the CSA on 25 September 2012. No other application dates are planned for other cities as of July 2014. However, the CSA has the responsibility to communicate a calendar of deployment.
The French Law on digital radio released in March 2009 has been revised so that when 20% of the French population is covered by a digital radio signal, digital radio demodulator will become mandatory in all devices including radios. Similar to the first draft of the law there is a 12 month grace period after which all products containing radio must be digital with the exception of cars. The car industry has an 18 month grace period after 20% coverage is reached. These changes were made to the law by the French Senate on 17 May 2011.
Currently there is a lack of FM spectrum which means the French radio market has no opportunity to expand. The French market in line with GE-06 has allocated Band III for digital radio. Following a consultation on use of the L-Band in March (2011) by the CSA, a call for tenders has been sent out to use the upper part of L-Band for satellite services which closed on 27 Feb 2012. This is possible as the upper part of the L-Band is reserved for digital radio hybrid services with satellite and terrestrial broadcasting mainly based on SDR.
The tender launched by CSA is not for radio broadcasters but mainly for distributors. It is for a national network with 67 allotments based in the upper part of the L-Band. Coverage objectives are 20% within three years, 40% within five years and minimum 60% within seven years. The tender requires compatibility with MA02revCO07 which will preserve the L-Band for broadcasting. However, it allows for DMB in the terrestrial part and also it opens up the lower part of the band for other technologies. Onde Numerique has been selected by the regulation authority to launch a hybrid terrestrial/satellite network using L-Band. Pay services should start by the end of 2014 using the ESDR norm.
Last update: 24-06-2015 - older versions
l'Alliance pour la RNT
An "Alliance for Digital Radio" ("l'Alliance pour la RNT") was formed in November 2014 to coordinate activities related to the promotion of a rapid launch of digital radio at the national level, and aimed at the regulator (CSA), government departments, industry partners, retailers and editors. The Alliance also informs the public about the advantages offered by digital radio.
The Alliance for Digital Radio was founded by the Syndicat Interprofessionnel des Radios et Télévisions Indépendantes (SIRTI), the Syndicat National des Radios Libres (SNRL) and WorldDMB. The Alliance continually broadens to include other parties wishing to be involved.
Current members of the Alliance for Digital Radio are: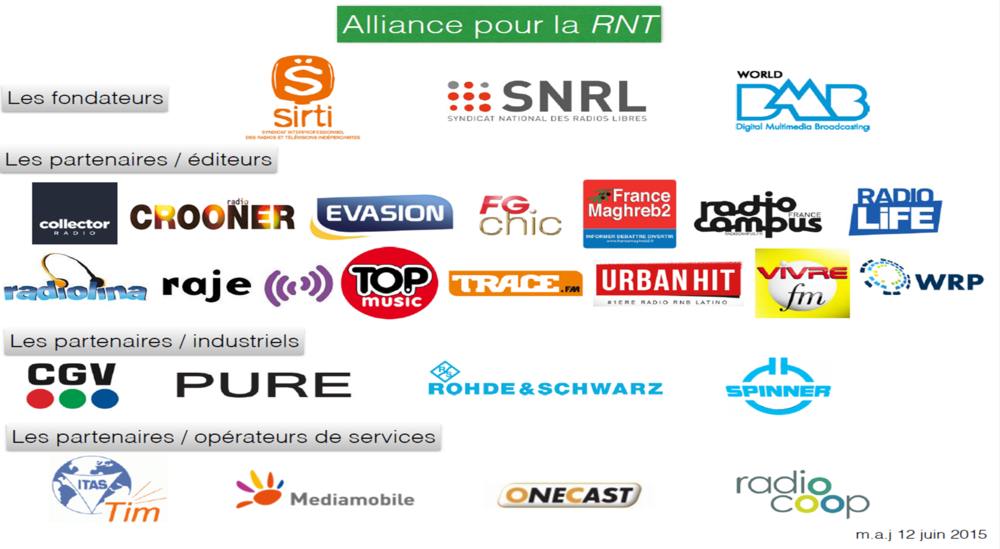 In May 2015 the CSA will launch a public consultation into the deployment of DAB+ in the metropolitan areas of France. Areas under consideration are Nantes, Lyon, Strasbourg, Lille, Bethune-Douai-Lens, Valenciennes, Mulhouse, Metz, Nancy, Bayonne, Le Havre, Brest, Grenoble, Bordeaux, Toulouse Rennes, Clermont-Ferrand, Montpellier and Toulon Rouen. The Alliance for Digital Radio have welcomed the CSA public consultation on the deployment of DAB radio across France. Press Release
Consumer Marketing
Large retailers including FNAC and DARTY are informing consumers about the benefits of digital radio through their websites. It is nevertheless expected that most of the marketing and communications activities will start during the 4th quarter of 2014. Local campaigns to promote digital radio continue to take place. For example, in June 2014, French radio station 'Radio Crooner' hosted a car rally with over 50 Rolls Royce and Bentley cars which crossed the Champs Elysees to mark the official launch of Radio Crooner being broadcast via DAB+ in Paris. Along with on-air promotions Crooner Radio set up a dedicated Facebook page highlighting these activities as well as shared videos on Youtube.
Visit Radio Crooner's YouTube page
Listen to Crooner radio's on-air promotion during MEDPI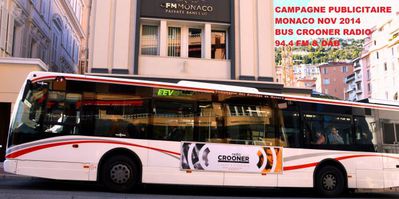 'Cul de Bus' Radio Crooner's first advertising campaign, Monaco.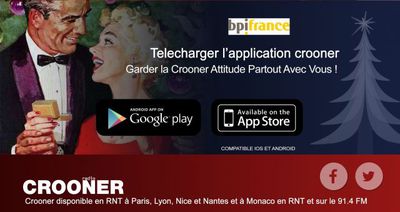 An advertisement promoting Radio Crooner's App available for download on the App Store and Google play
Radio Crooner Christmas "Christmas from Hollywood" is a special station available on the Radio Crooner website from Dec 7, 2014 - Jan 1, 2015.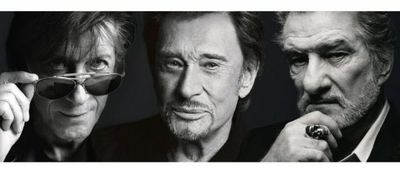 Radio Crooner's presenters
---
---
---
---
---
---
---
---
---
---